Knowledge Center
3 Reasons to Ask Your Orthopedic Surgeon for a Mako SmartRobotics Total Hip Replacement
August 29, 2022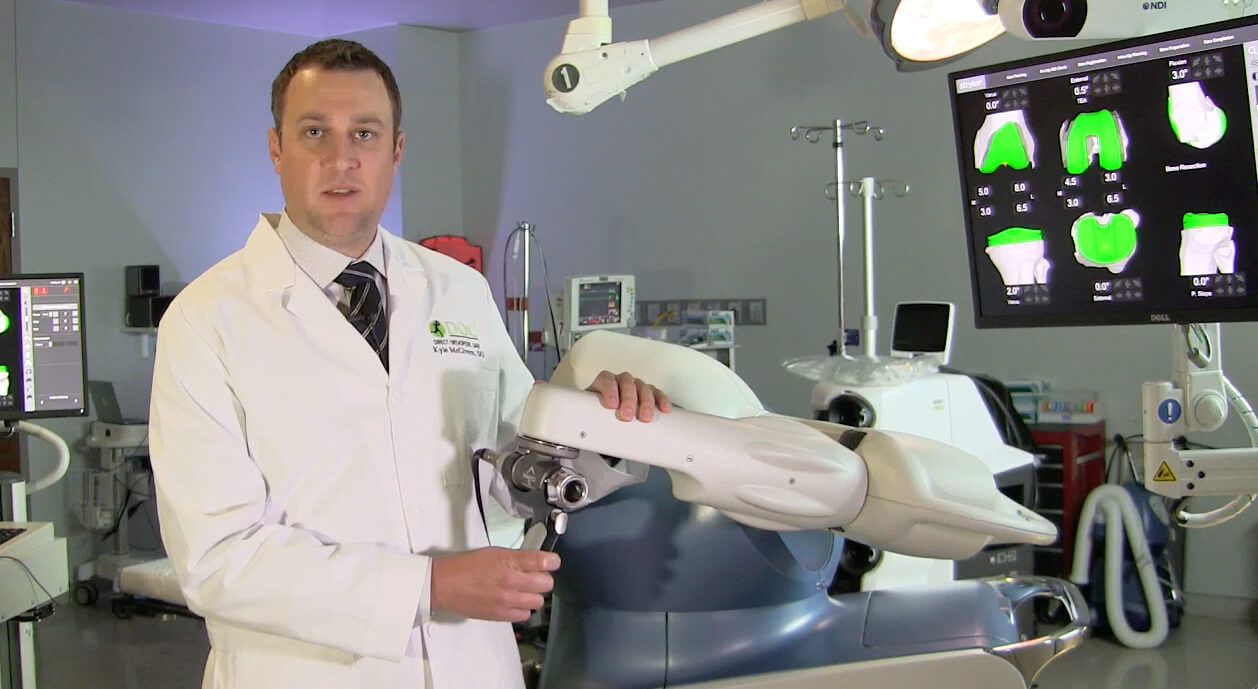 Between orthobiologic treatments such as stem cell injections and advanced robotics for surgical procedures, the field of orthopedics is exciting! One newer option in terms of joint replacement surgery (arthroplasty) for conditions such as osteoarthritis is the minimally invasive Mako SmartRobotics system.
What makes the cutting-edge Mako SmartRobotics system the top choice for a total hip replacement?
1. A Total Hip Replacement With Mako SmartRobotics Allows Your Orthopedic Surgeon to Completely Customize Your Procedure
Mako's CT-based software creates a 3D model for your surgeon of your specific anatomy before surgery, so they can operate with unmatched precision and match your anatomy to your implant.
During the procedure, your surgeon utilizes the robotic arm with advanced control and real-time data, allowing your incision to be smaller, more healthy tissue to remain unaffected, and your implant to be more accurately placed with better alignment. This leads to a host of benefits, such as a reduced risk of bleeding and less pain from malalignment.
2. Mako Offers Faster Recovery Time Than Traditional Joint Replacement Surgery
Not only will you spend less time in in-patient physical therapy to walk naturally, but your overall time spent in your surgical center is reduced as well. After your release to home, you'll experience less pain and downtime than you would after traditional hip replacement. So, you can return to enjoying life again much sooner!
3. There Is a Reduced Risk of Failure and Revision Joint Replacement Surgery
Because your implant is better matched to your unique anatomy and because the state-of-the-art system does not allow any movement of the robotic arm outside of the pre-planned area which eliminates human error, your hip replacement is less likely to fail. It's also less likely to require revision surgery from dislocations or improper fitting because of the precision involved through Mako's software.
Is a Mako Total Hip Replacement Right for You?
If interventional pain management treatments have not provided relief from chronic pain, achiness, stiffness, limited mobility, swelling, and / or  joint deformity, ask your orthopedic surgeon about a hip replacement with Mako, or Makoplasty.
You're likely an eligible candidate if you have not found relief of debilitating pain and / or limited mobility from non-surgical therapies for hip diseases / disorders such as degenerative joint disease or avascular necrosis.
It's Hip to Be Pain Free and Mobile, So Turn to Direct Orthopedic Care for a Mako Hip Replacement!
Want to learn more about this revolutionary system and our skilled orthopedic surgeons including Dr. Kyle McGivern offering Mako joint replacements? Call us today at 855-898-2655 to schedule, or request an appointment online now if you know you need a hip replacement and want to choose DOC providers offering the Mako system!
For a simple consultation to see if you're a candidate for a Mako total hip replacement, you can book $20 TeleHealth visit.
For more information on the cost of care, click here.