Knowledge Center
Is Tai Chi for Me?
June 26, 2018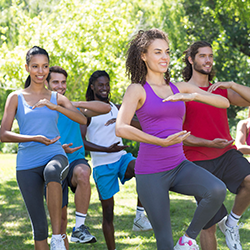 Tai chi is a traditional Chinese health-promoting exercise, integrating the mind, body, and spirit through controlled movements and breathing, "creating a harmonious balance between the inner and outer self." Numerous studies indicate that tai chi improves muscular strength and flexibility, relieves pain, and improves the quality of life. Muscle strength supports and protects joints from injury. Flexibility exercises increase the range of motion and facilitate circulation. Tai chi movements emphasize weight transference to improve balance and prevent falls. According to the conclusions of a controlled trial published in the U.S. National Library of Medicine: "Tai chi reduces pain and improves physical function, self-efficacy, depression and health-related quality of life for knee osteoarthritis." The most common type of tai chi injury is to the knee joints. Tai chi uses deep knee stances, which strengthen the legs but can harm the knees from overuse or improper technique. If practiced correctly with the body in proper alignment, the thighs and hips hold the spine upright, not the knees. The Tai Chi for Health Institute provides a simple guide for preventing injury:
Don't lock the knees. Keep them aligned over the feet, but slightly bent.
Squat only within your individual comfort zone.
Don't lean backward or forwards. Keep the back aligned upright.
Don't force movement. Move as if gently swimming in the air.
Avoid abrupt movements.
Include warm-up and cool-down exercises.
Wear comfortable shoes for balance.
Hydrate often.
If a knee injury or any musculoskeletal injury or condition interferes with the practice of tai chi or another activity, Direct Orthopedic Care's team of orthopedic surgeons, specialty-trained physician assistants, and physical therapists are available seven days a week to provide orthopedic health care.
For more information on the cost of care, click here.