Knowledge Center
DOC Expands to OKC
September 25, 2019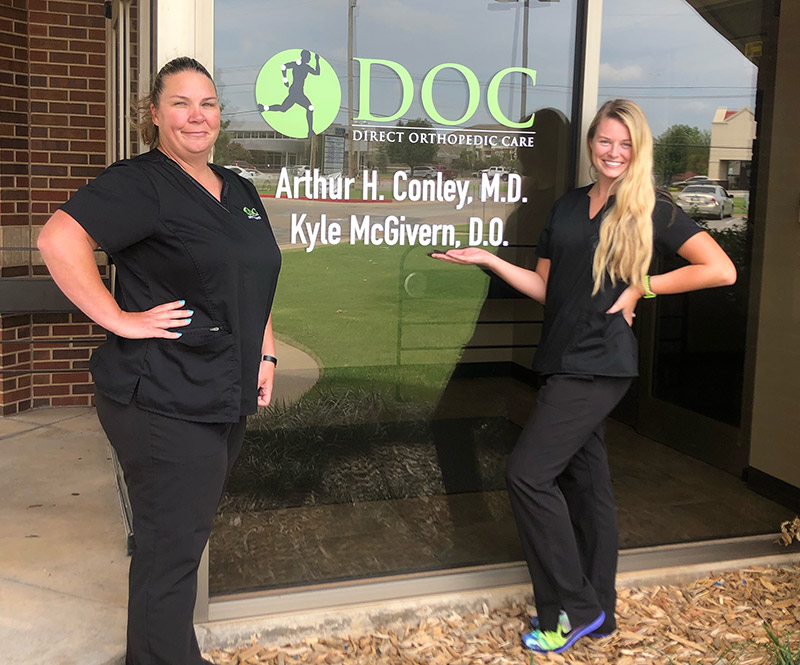 Two DOC orthopedic healthcare facilities are now open in Oklahoma City (OKC), providing complete orthopedic services, including spine and pain management. The clinics are located at 3130 SW 89th Street, Suite 200, and 3705 NW 63rd Street, Suite 201.
DOC welcomes Dr. Kyle McGivern and Dr. Arthur Conley, orthopedic surgeons, to the team of pain management physicians and physician assistants at the Oklahoma City clinics. Dr. McGivern and Dr. Conley practice at both the North and South OKC DOC locations.
Dr. Kyle McGivern completed his internship and residency at St. Anthony Hospital in Oklahoma City and a fellowship in knee and hip replacement surgery at Cleveland Clinic Florida. Dr. McGivern specializes in adult hip and knee reconstruction with a focus on hip and knee replacement, revisions, as well as general orthopedic surgery and trauma care.
Dr. Arthur Conley earned his medical degree at Baylor College of Medicine in Houston's Texas Medical Center. He completed a 5-year residency at Chicago's Rush Presbyterian St. Luke's Medical Center and fellowship in spinal surgery at Rush Cook County and the Shriner's Hospital for Crippled Children. Then Dr. Conley served his country as an orthopedic spinal surgeon at Travis Air Force Base. Dr. Conley specializes in spine disorders, offering effective surgical and nonsurgical options.
In 2016, DOC had multiple DOC locations in the Austin and DFW, Texas, communities. In 2018, DOC evolved from an orthopedic healthcare facility to a healthcare system. In order to provide complete care for injuries and conditions, DOC added hospitals to the healthcare portfolio under Pioneer Health Systems, the holding company for all DOC-related services. The three strategically located, physician-owned hospitals include: Northwest Hills (Austin), St. Camillus (Dallas), and Surgical Hospital of Oklahoma (Oklahoma City).
In 2019, DOC expanded complete orthopedic services to Oklahoma, specializing in musculoskeletal orthopedics, spine and pain management with ancillary care such as physical therapy, which will be added to DOC OKC in the near future as well as a third DOC location.
For more information on the cost of care, click here