Knowledge Center
DOC OKC Open 7 Days a Week
February 10, 2020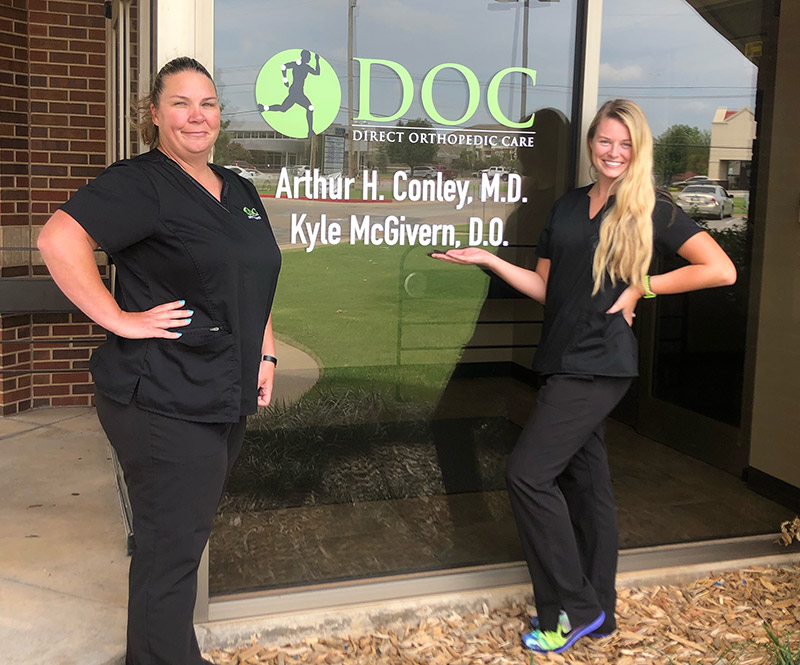 The Direct Orthopedic Care clinics are now open 7 days a week, 10 a.m. to 6 p.m., in Oklahoma City (OKC), specializing in musculoskeletal orthopedics, spine and pain management with physical therapy ancillary care at the south OKC location. The south OKC clinic is located at3130 SW 89thStreet, Suite 200, and the north OKC clinic is at 3705 NW 63rdStreet, Suite 201.
Now the OKC community has access to convenient, cost-effective orthopedic care after school, after work and on weekends. The team of physician assistants, radiologic technicians, medical assistants, and orthopedic surgeons are available at both locations 8 hours a day every day to take care of any unfortunate, unexpected sports or work-related injury or orthopedic condition. DOC is a convenient alternative for injection therapies for inflammation and pain and regenerative medicine treatments including platelet-rich plasma and stem cell therapy.
Direct Orthopedic Care charges no facility fee and strives to be in-network with all insurance providers to ensure co-pays and out-of-pocket charges are kept to the lowest amounts possible. Research from HospitalStats.org shows the average cost for an orthopedic procedure in an emergency room, including X-ray, splint and facility fee, averages $1,498. At DOC, the same procedure, tests and treatment average only $300, a savings of approximately 80%.
Dr. Kyle McGivern and Dr. Arthur Conley, orthopedic surgeons, practice at both the south and north OKC DOC locations. Dr. Kyle McGivern specializes in adult hip and knee reconstruction with a focus on hip and knee replacement, revisions, as well as general orthopedic surgery and trauma care. Dr. Arthur Conley specializes in spine disorders and pain management, providing effective surgical and nonsurgical options. J.T. McLaughlin, PA-C and Grant Roberts, PA-C are experienced in general orthopedics and pain management.
The South DOC OKC location offers physical therapy services beginning February 2020 and North DOC OKC will have PT in April.
For more information or to make an appointment at DOC OKC, call 405-445-0155 North, 405-352-7051 South, or visit www.directorthocare.com/find-a-location.
For more information on the cost of care, click here.