Knowledge Center
Look Who's Using Regenerative Medicine
May 30, 2018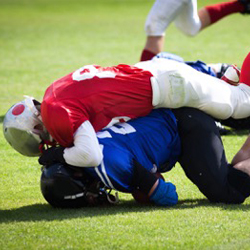 Stem cell and platelet-rich plasma therapies are widely used in sports medicine. It is estimated that hundreds of NFL players across 32 teams have used regenerative medicine, averaging at least six players per team.
The NFL and Stem Cell Therapy
New York Jets running back, Chris Johnson, tore his meniscus and caused damage to the knee joint during the 2013 football season. His orthopedic surgeon, James Andrews, presented an option to augment the surgery with Johnson's stem cells, the body's master cells, and inject them directly into the surgery site. He had stem cells from his bone marrow injected into his knee to boost healing and rebuild cartilage during surgery to repair the meniscus tear.
Kansas City Chiefs running back, Jamaal Charles, suffered a torn anterior cruciate ligament (ACL) in his right knee. Charles had stem cells injected into his knee during his ligament repair surgery and again six weeks later. He believed that the stem cell injections would get him back on the field quicker. "I think the stem cell treatments in my knee have been working really well and I've been pushing myself. I'm dedicated to getting back." Stem cell treatments for athletes use their stem cells, which can differentiate into a variety of different cell types and mobilize in response to an injury. Some players receive an injection for a troublesome knee or shoulder. Others combine stem cell treatment in tandem with a surgical procedure, like Johnson and Charles.  
The NFL and PRP
Pittsburgh Steeler wide receiver, Hines Ward, suffered a medial collateral ligament (MCL) sprain during the AFC Championship Game two weeks before the Super Bowl. He needed to recover from a serious knee injury to be in top form to compete at the Super Bowl. Platelet-rich plasma (PRP) was injected into his knee to increase the blood supply and nutrients to the connective tissue and speed healing. On the second play of the Super Bowl, Hines Ward caught a 38-yard pass for a touchdown. The Steelers won Super Bowl XL and Hines Ward was MVP. The NFL considers stem cells and platelet-rich plasma (PRP) medical treatments, not performance-enhancing substances. Physicians often mix stem cell and PRP therapies for the best results to help athletes heal and get back into the game.  
Sources