ORTHOPEDIC SPECIALISTS
WEST PLANO-CARROLLTON TEXAS
No Appointment Necessary!
Direct Orthopedic Care's specialists offer fast, affordable treatment of all minor to urgent orthopedic injuries. We also offer immediate care for chronic joint and osteoarthritis orthopedic conditions. (see our full list of services).
Rachel Romack, PA-C
Rachel Romack is originally from El Paso, Texas. She earned her Bachelor's degree from ORU in Tulsa, OK where she was a member of their D-I Women's Golf team. She completed her Master of Physician Assistant Studies degree in 2016 at UT Southwestern in Dallas, TX.
Rachel has been working in Orthopedics in the DFW area since graduation. She remains an active golfer and is an avid traveler with a love for hiking and scuba diving.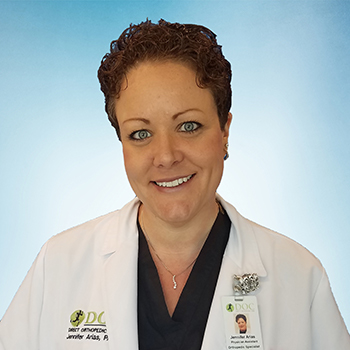 Jennifer Arias, PA-C
Jennifer is originally from a small town in New Mexico, she obtained a Bachelor of Science Degree from Eastern New Mexico University in 2002. She then received a Masters in Medical Science and second Bachelors in Physician Assistant studies from Nova Southeastern University in Naples Florida in 2007. In high school and college she was an athletic trainer for several different sports which is where her love for treating orthopedic injuries began.
Before attending PA school, Arias worked at Lubbock Sports Medicine Associates for 2 years. During her schooling she did a fellowship in the musculoskeletal department at the Mayo Clinic in Rochester MN. After PA school, Jennifer worked in Naples at Gulf Coast Spine & Orthopedic Institute for a year before moving to Dallas to continue her career in orthopedics.
For the last 9 years she worked for Dr. Kurt Rathjen assisting in hip and knee surgery. She is certified by the National Commission on Certification of Physician Assistants since 2007. Her hobbies include reading, spending time with friends and family, especially the loves of her life- 3 nieces and 2 nephews.
NO APPOINTMENT NEEDED!
Direct Orthopedic Care (Plano/Carrollton)
3412 E. Hebron Pkwy
Suite 106
Carrollton, TX 75010
Located: Corner of W. Park Blvd & Midway
(Next to Starbucks)
972.810.1620
Fax: 972.810.1616
HOURS
Mon-Sun: 9am-7pm