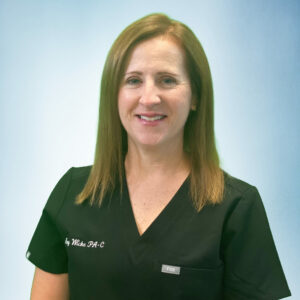 Amy Wicke, PA-C
Pain Management Specialist
Amy Wicke is a board-certified Physician Assistant, specializing in non-operative management of musculoskeletal and spine disorders. She treats the entire spectrum of spinal conditions including cervical, thoracic, and lumbar spine pathologies as well as painful conditions such as arthritis, chronic abdominal pain, chronic pelvic pain, headaches, fibromyalgia, peripheral joint pain (hips, knees, shoulder, elbows) to name a few. Amy has extensive experience in pain management, neurosurgery, family medicine, and women's health. Her diverse medical background helps her diagnose and treat people suffering from a wide variety of pain issues. Her goal is to restore function and alleviate pain through minimally invasive and conservative treatment options.
Amy is a Michigan native and first arrived in Texas to attend Abilene Christian University. Her love of science and passion to help people be healthy inspired her to pursue a career in medicine. She was accepted into the highly competitive Philadelphia College of Osteopathic Medicine Physician Assistant program and after completing her education moved back to Texas to practice. She is a member of the American Academy of Physician Assistants and the Texas Academy of Physician Assistants.
Amy enjoys spending her free time with her husband and two boys. Together they like to explore the world by traveling, hiking, biking, reading, and gardening. When time allows, Amy volunteers her time on medical missions and at Northwest Hills United Methodist Church.
Undergraduate:
Abilene Christian University
Graduate:
Philadelphia College of Osteopathic Medicine Physician Assistant Program
Honors & Memberships:
American Academy of Physician Assistants
Texas Academy of Physician Assistants
You may see Amy Wicke, PA-C at the following locations

Central Austin
Hours
Mon-Fri: 10:00am-6:00pm
Sat: 10:00am-5:00pm
Sun: 12:00pm-5:00pm
Call 512-675-1359
Schedule Telehealth Appointment Now
Fax: 512-599-9511

Round Rock
Hours
Mon-Fri: 10:00am-6:00pm
Sat: 10:00am-5:00pm
Sun: 12:00pm-5:00pm
Call 512-729-3138
Schedule Telehealth Appointment Now
Fax: 512-599-9181

South Austin
Hours
Mon-Fri: 10:00am-6:00pm
Sat: 10:00am-5:00pm
Sun: 12:00pm-5:00pm
Call 512-277-6643
Schedule Telehealth Appointment Now
Fax: 512-888-1202