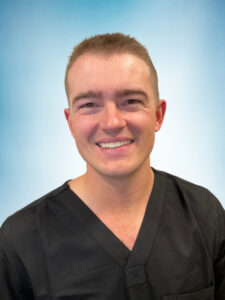 Chase Duell PT, DPT, CSCS
Orthopedic Physical Therapist
Chase graduated from The University of North Texas with a Bachelor's degree in Kinesiology in 2016. He then attended UT Southwestern for his Doctorate of Physical
Therapy, graduating in 2018. He has been a Certified Strength and Conditioning Specialist since 2020 and is also certified in dry needling, a technique therapists use to relieve the pain from trigger points.
Chase is an active member of the Sports Section of the American Physical Therapy Association and National Strength and Conditioning Association. His special interests include sports rehab, concussion management, and helping post-operative patients return to their hobbies and prior level of function.
Outside of the clinic, Chase enjoys golfing, traveling, and trying new breweries and restaurants.
Undergraduate:
University of North Texas
Graduate:
UT Southwestern
Honors & Memberships:
American Physical Therapy Association
National Strength and Conditioning Association
Certifications:
Certified in Dry Needling
Certified Strength and Conditioning Specialist (CSCS)
You may see Chase Duell PT, DPT, CSCS at the following location

Denton
Hours
Mon-Fri: 10:00am-6:00pm
Sat: 10:00am-5:00pm
Sun: 12:00pm-5:00pm
Call 469-535-6813
Schedule Telehealth Appointment Now
Fax: 972-984-7521