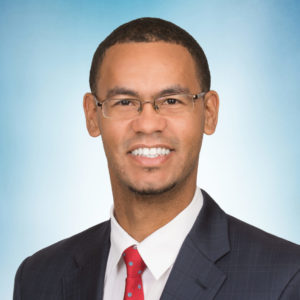 Christopher Flowers, MD
Orthopedic Surgeon
Dr. Christopher W. Flowers is a Board-Certified and Sports Medicine Fellowship-trained orthopedic surgeon. He specializes in the treatment and prevention of sports and non-sports related injuries to the shoulder, elbow, hand and wrist, knee, and foot and ankle.
A fourth-generation physician from Plano, Texas, Dr. Flowers provides sports medicine expertise as a team physician for Ryan High School and Denton High School and is an orthopedic consultant for UNT athletics.
In his free time, Dr. Flowers enjoys spending time with his family and participating in a variety of different sports. His wife is a dentist and he has 2 small children.
Undergraduate:
Morehouse College
Residency:
Ochsner Clinic Foundation Medical Center
Medical School:
University of Texas Medical Branch at Galveston
Fellowship:
University of Texas at Houston and Baylor College of Medicine
Specialties:
Application of Biologics, Cartilage Restoration, General Orthopedics, Minimally Invasive Surgery, Patient Specific Knee Replacement, Sports Medicine
Honors & Memberships:
Texas Medical Association
American Academy of Orthopedic Surgeons
American Orthopedic Society for Sports Medicine
Texas Orthopedic Association
Gladden Society
Arthroscopy Association of North America
Certifications:
Board-Certified American Board of Orthopaedic Surgery
You may see Christopher Flowers, MD at the following locations

Denton
Hours
Mon-Fri: 10:00am-6:00pm
(Walk-ins accepted until 5:00pm)
Sat: 10:00am-5:00pm
(Walk-ins accepted until 4:00pm)
Sun: 12:00pm-5:00pm
(Walk-ins accepted until 4:00pm)
Call 469-535-6813
Schedule Telehealth Appointments
Available 6pm-10pm (Mon-Sun)
Fax: 972-984-7521

Southlake
Hours
Mon-Fri: 10:00am-6:00pm
(Walk-ins accepted until 5:00pm)
Sat: 10:00am-5:00pm
(Walk-ins accepted until 4:00pm)
Sun: 12:00pm-5:00pm
(Walk-ins accepted until 4:00pm)
Call 469-535-6842
Schedule Telehealth Appointments
Available 6pm-10pm (Mon-Sun)
Fax: 817-809-2661