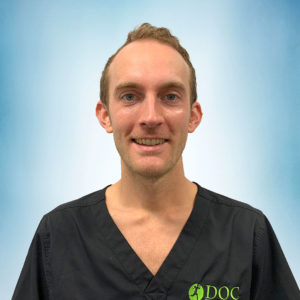 Eric Johnson, PA-C
Orthopedic Specialist
Eric is a native of North Carolina. He is a board certified Physician Assistant who attended the Keck School of Medicine of the University of Southern California. He holds a Master of Physician Assistant Practice degree from USC. Prior to attending USC, Eric graduated from the University of North Carolina at Wilmington with degrees in exercise science and Spanish. While at UNC-Wilmington, as a student athlete, he competed in Division I cross country and track and field.
Eric has extensive experience in orthopedic surgery, sports medicine, and regenerative medicine. He completed orthopedic training under Dr. Brian Cole at Rush University Medical Center in Chicago where he assisted the team doctors of the Chicago Bulls and White Sox. Eric has also completed intensive training in regenerative medicine while at the Orthohealing Center in Los Angeles, CA. He specializes in regenerative medicine and orthopedic injuries in runners. He performs ultrasound guided injections including: Platelet Rich Plasma, Bone Marrow Concentrate, and Lipoaspirate, and Hyaluronic Acid.
Eric serves as a preceptor and lecturer to USC Physician Assistant students in orthopedic medicine. He is a sports fanatic and an avid long distance runner. He continues to train for endurance events.
Undergraduate:
University of North Carolina
Graduate:
Keck School of Medicine at University of Southern California
You may see Eric Johnson, PA-C at the following locations

Central Austin
Hours
Mon-Sat: 10:00am-6:00pm
Sun: 12:00pm-6:00pm
Call 512-675-1359
Schedule Telehealth Appointments
Available 6pm-10pm (Mon-Sun)
Fax: 512-599-9511

Round Rock
Hours
Mon-Sat: 10:00am-6:00pm
Sun: 12:00pm-6:00pm
Call 512-729-3138
Schedule Telehealth Appointments
Available 6pm-10pm (Mon-Sun)
Fax: 512-599-9181

South Austin
Hours
Mon-Sat: 10:00am-6:00pm
Sun: 12:00pm-6:00pm
Call 512-277-6643
Schedule Telehealth Appointments
Available 6pm-10pm (Mon-Sun)
Fax: 512-888-1202