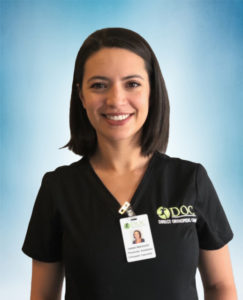 Isabel Mantooth, PA‑C
Orthopedic Specialist
Isabel Mantooth, born in Texas, grew up in Tennessee. She received her first bachelor's degree in Physical and Health Education from Middle Tennessee State University.
 
As a member of the Tennessee Army National Guard, she attended The Interservice Physicians Assistants Program where she received her second bachelor's degree and master's degree in Physician Assistant Studies through the University of Nebraska Medical Center. She is board certified through the National Commission of Certification of Physician Assistants (NCCPA). She has spent the last year training and treating the Army's service members at Fort Hood, Texas.
She spent 8 years enlisted as a medic in the US Army National Guard. Prior to PA school, she was a rehabilitation tech at a major joint replacement center in Tennessee. She also spent time as an EMT and medic. She has treated initial injury in an emergency setting as well as helped patients regain strength and mobility after injuries and total knee and hip replacements.
Isabel is passionate about learning and educating, enjoys spending time with her family, exploring new
foods, weightlifting, and hiking.
Undergraduate:
University of Nebraska Medical Center
Graduate:
University of Nebraska Medical Center
You may see Isabel Mantooth, PA‑C at the following locations

Central Austin
Hours
Mon-Sat: 10:00am-6:00pm
Sun: 12:00pm-6:00pm
Call 512-675-1359
Schedule Telehealth Appointments
Available 6pm-10pm (Mon-Sun)
Fax: 512-599-9511

Round Rock
Hours
Mon-Sat: 10:00am-6:00pm
Sun: 12:00pm-6:00pm
Call 512-729-3138
Schedule Telehealth Appointments
Available 6pm-10pm (Mon-Sun)
Fax: 512-599-9181