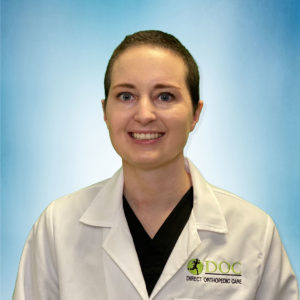 Jennifer Montgomery, PA-C
Physician Assistant
Jennifer Montgomery was born and raised in Illinois. She was accepted to attend the United States Military Academy (West Point) for her first undergraduate degree in Life Sciences. She commissioned into the Chemical Corps where she served for five years, prior to her acceptance into the Interservice Physician Assistant Program. She then received her second Bachelor's and master's degree in Physician Assistant studies in 2015.
She is currently obtaining a second master's degree from the University of Colorado Anschutz. Jennifer is a combat veteran of Operation Enduring Freedom 11-12 and retired from the active-duty Army in FEB 2021. Jennifer enjoys spending time with her two cats and three jellyfish.
Her hobbies include snowboarding, weightlifting, home improvement, boxing, yoga, and riding her Peloton.
Undergraduate:
West Point United States Military Academy
You may see Jennifer Montgomery, PA-C at the following locations

Central Austin
Hours
Mon-Sat: 10:00am-6:00pm
Sun: 12:00pm-6:00pm
Call 512-675-1359
Schedule a Telehealth Appointment
Fax: 512-599-9511

Round Rock
Hours
Mon-Sat: 10:00am-6:00pm
Sun: 12:00pm-6:00pm
Call 512-729-3138
Schedule a Telehealth Appointment
Fax: 512-599-9181

South Austin
Hours
Mon-Sat: 10:00am-6:00pm
Sun: 12:00pm-6:00pm
Call 512-277-6643
Schedule a Telehealth Appointment
Fax: 512-888-1202