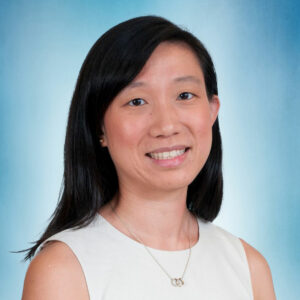 Kimberly Ting, MD
Pain Management Specialist
Kimberly Ting, MD is a fellowship-trained pain management specialist who received her training at the prestigious Harvard University Massachusetts General Hospital and the University of Texas MD Anderson Cancer Center. Dr. Ting's primary goal is to relieve pain and restore functionality to people suffering from acute and chronic pain no matter what the cause. Dr. Ting was drawn to pain management because of the diverse ways she is able to connect with people by providing pain relieving procedures, non-opioid medication management, and guidance on their treatment plan and lifestyle.
As a spine specialist, Dr. Ting focuses on neck and upper, mid, and low back pain treatments to help people avoid surgery. Dr. Ting's extensive experience in teaching and research helps her keep up to date with the latest techniques in treating pain in the entire body. In addition to treating spine issues, Dr. Ting helps people with painful conditions such as arthritis, chronic abdominal pain, chronic pelvic pain, headaches, fibromyalgia, and peripheral joint pain (knees, hips, shoulders, elbows) to name a few.
Dr. Ting is an engaging and forward-thinking individual who is not only known for her compassionate bedside manner but also for her humor. They do say laughter is the best medicine! While in medical school at the esteemed Drexel University, Dr. Ting
co-founded the school's first Women In Surgery Interest Group, a mentorship program that continues to benefit other female medical students today.
Outside of work Dr. Ting enjoys spending time with friends and family and exploring her surroundings… mostly on foot. She is an avid runner and participates in half marathons.
Undergraduate:
Carnegie Mellon University
Residency:
Harvard University – Massachusetts General Hospital
Medical School:
Drexel University College of Medicine
Fellowship:
University of Texas MD Anderson Cancer Center
Honors & Memberships:
Women In Surgery Interest Group Co-Founder
American Medical Association, Drexel Chapter Co-President
Published in multiple journal articles
Research Assistant, Dept of Anesthesia, Critical Care, and Pain Medicine University of Texas MD Anderson Cancer Center
Certifications:
Double Board Certified in Pain Medicine and Anesthesiology by the American Board of Anesthesiology
You may see Kimberly Ting, MD at the following locations

Frisco
Hours
Mon-Fri: 10:00am-6:00pm
Sat: 10:00am-5:00pm
Sun: 12:00pm-5:00pm
Call 469-535-6647
Schedule Telehealth Appointments
Available 6pm-10pm (Mon-Sun)
Fax: 972-987-0971

Southlake
Hours
Mon-Fri: 10:00am-6:00pm
Sat: 10:00am-5:00pm
Sun: 12:00pm-5:00pm
Call 469-535-6842
Schedule Telehealth Appointments
Available 6pm-10pm (Mon-Sun)
Fax: 817-809-2661