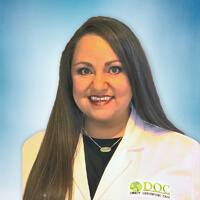 Mandi Amburn MMSc, PA‑C
Orthopedic Specialist
Mandi is a native Texan who grew up in Lubbock, TX. She received her first undergraduate degree from Eastern New Mexico University in 2002. She then, attended Nova Southeastern University in Fort Lauderdale, FL and earned a second undergraduate degree in Physician Assistant Studies and her Masters in Medical Science in 2005.
Mandi has an extensive back ground in Orthopedics and Sports Medicine. She was a High School Athletic Trainer and earned a full ride scholarship to continue Athletic Training through college. Since receiving her Physician Assistant Certification in 2005 she has practiced in Orthopedics. She has extensive experience in treating a wide range of guests from professional athletes, those needing joint replacements and orthopedic oncology. She is board certified by the National Commission on Certification of Physician Assistants (NCCPA) and is a current member of both the American Academy of Physician Assistants and Texas Academy of Physician Assistants.
Mandi currently lives in Austin. She enjoys spending time with her family, traveling and she is an avid sports fan.
Undergraduate:
Eastern New Mexico University
Nova Southeastern University in Fort Lauderdale
Graduate:
Nova Southeastern University in Fort Lauderdale, Master of Science in Medical Sciences
Honors & Memberships:
American Academy of Physician Assistants
Texas Academy of Physician Assistants
Certifications:
Board Certified National Commission on Certification of Physician Assistants (NCCPA)
You may see Mandi Amburn MMSc, PA‑C at the following location

Round Rock
Hours
Mon-Sat: 10:00am-6:00pm
Sun: 12:00pm-6:00pm
Call 512-729-3138
Fax: 512-599-9181