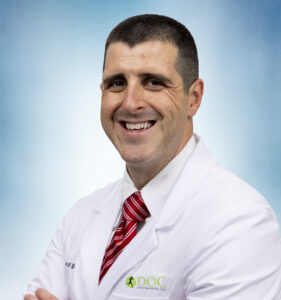 Richard Dees, DO
Orthopedic Surgeon
Dr. Richard Dees was born and raised in a small town in Kamas, Utah. He received his undergraduate from The University of Utah in Salt Lake City, Utah. He went on to graduate from the Lake Erie College of Osteopathic Medicine in Greensburg, Pennsylvania in 2017. Dr. Dees completed his residency at St. Anthony hospital in Oklahoma City, OK. While in residency he and his family fell in love with Oklahoma and its people. Following his orthopedic surgery residency, he completed a sports medicine fellowship at San Diego Arthroscopy & Sports Medicine Fellowship. In his fellowship he specialized in arthroscopic procedures of the knee and shoulder as well as total shoulder arthroplasty. He returned to Oklahoma City, Oklahoma in the summer of 2023. He is a member of American Academy of Orthopaedic Surgeons, American Osteopathic Academy of Orthopedics, American Osteopathic Association, Arthroscopy Association of North America, American Orthopaedic Society for Sports Medicine.
Dr. Dees' philosophy is to provide compassionate and individualized treatment for each patient. During your visit he will work to establish an accurate diagnosis and provide education so that you can understand your injury as well as treatment options. His clinical practice includes the management of knee, shoulder, elbow injuries using innovative arthroscopic and minimally invasive techniques. He has a particular interest in arthroscopy of the knee and shoulder as well as shoulder arthroplasty.
Dr. Dees is happily married with 2 children and a black Labrador retriever. When he is not working he enjoys spending time with his family, outdoor activities and BBQ. He also never misses watching the University of Utah football team during the fall. He looks forward to seeing you in his clinic.
Undergraduate:
University of Utah
Residency:
St. Anthony Hospital OKC
Medical School:
Lake Erie College of Osteopathic Medicine
Fellowship:
San Diego Arthroscopy & Sports Medicine Fellowship
Honors & Memberships:
American Osteopathic Academy of Orthopedics
American Osteopathic Association
Arthroscopy Association of North America
American Orthopaedic Society for Sports Medicine
American Academy of Orthopaedic Surgeons
You may see Richard Dees, DO at the following locations

Norman
Hours
Thurs: 10:00am-6:00pm
(Walk-ins accepted until 5:00pm)
Call 405-352-7051
Fax: 405-737-0221

North Oklahoma City
Hours
Mon-Fri: 10:00am-6:00pm
(Walk-ins accepted until 5:00pm)
Sat: 10:00am-5:00pm
(Walk-ins accepted until 4:00pm)
Sun: 12:00pm-5:00pm
(Walk-ins accepted until 4:00pm)
Call 405-445-0155
Fax: 405-737-0221