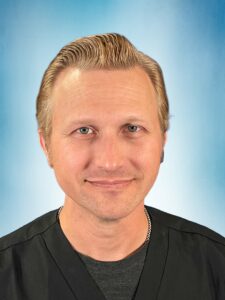 Russell Wilson, MS, PA-C, ATC
Orthopedic Specialist
Russell Wilson began his medical career as an EMT in 1994 and finished his Paramedic licensure in 1997 while attending Angelo State University in San Angelo, Texas. He graduated from ASU in 1997 with his Bachelors of Science degree in Kinesiology. Afterward, he continued working part-time as a Paramedic while obtaining his Master's Degree in Sports Health from Texas Tech University in 2000. Russell worked for several years as an athletic trainer, serving high schools throughout Texas along with Division III and Division II collegiate athletic programs. In 2010, he graduated from the University of North Dakota School of Medicine Physician Assistant program.
Prior to PA school, he worked as a Paramedic throughout various locations in Texas and in the Gulf of Mexico onboard an offshore oil-drilling rig. As a PA-C, he has worked in an outpatient VA clinic, urgent care facilities, a general orthopedic clinic, a level I hospital trauma service, and a physical medicine & rehab clinic. He is also part of the ancillary staff for the USA Taekwondo Olympic teams. He is a certified Physician Assistant, certified Athletic Trainer, and continues to maintain his Paramedic license. He is a retired Firefighter/Captain from the Runaway Bay Volunteer Fire Department.
Russell has 2 children: Sydney, who is attending Colorado State University where she is studying Pre-med; and Jack who will be entering the 8th grade.
Undergraduate:
Angelo State University
Graduate:
University of North Dakota School of Medicine
Specialties:
Adult and Pediatric Fracture Care, Fractures, Overuse Syndromes, Sport Medicine
You may see Russell Wilson, MS, PA-C, ATC at the following location

Frisco
Hours
Mon-Sat: 10:00am-6:00pm
Sun: 12:00pm-6:00pm
Call 469-535-6647
Schedule Telehealth Appointments
Available 6pm-10pm (Mon-Sun)
Fax: 972-987-0971