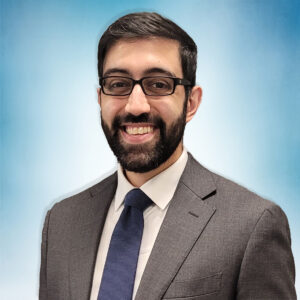 Sohaib Malik, MD
Orthopedic Surgeon
Dr. Sohaib Malik is a fellowship trained orthopedic surgeon. He offers a wide variety of treatment at Direct Orthopedic Care. Dr. Malik's focus includes hand and upper extremity, sports medicine, and trauma. His goal is to maximize his patients' quality of life and improve their mobility.
Dr. Malik received his medical degree from Eastern Virginia Medical School. He completed his residency at Marshall University in West Virginia and his fellowship at the University of Alabama at Birmingham. He trained at Andrew's Sports Medicine & Orthopedic center in Birmingham, Alabama taking care of athletes.
In his spare time, he enjoys spending time with his family, traveling, and going to Mavericks games.
Undergraduate:
The College of William and Mary
Residency:
Marshall University School of Medicine
Medical School:
Eastern Virginia Medical School
Fellowship:
University of Alabama at Birmingham
Honors & Memberships:
Alpha Omega Alpha Honor Society
American Medical Association
American Society for Surgery of the Hand
American Academy of Orthopaedic Surgeons
You may see Sohaib Malik, MD at the following locations

Frisco
Hours
Mon-Fri: 10:00am-6:00pm
(Walk-ins accepted until 5:00pm)
Sat: 10:00am-5:00pm
(Walk-ins accepted until 4:00pm)
Sun: 12:00pm-5:00pm
(Walk-ins accepted until 4:00pm)
Call 469-535-6647
Schedule Telehealth Appointments
Available 6pm-10pm (Mon-Sun)
Fax: 972-987-0971

Mansfield
Hours
Mon-Fri: 10:00am-6:00pm
(Walk-ins accepted until 5:00pm)
Sat: 10:00am-5:00pm
(Walk-ins accepted until 4:00pm)
Sun: 12:00pm-5:00pm
(Walk-ins accepted until 4:00pm)
Call 682-628-0277
Schedule Telehealth Appointments
Available 6pm-10pm (Mon-Sun)
Fax: 682-877-8701

Southlake
Hours
Mon-Fri: 10:00am-6:00pm
(Walk-ins accepted until 5:00pm)
Sat: 10:00am-5:00pm
(Walk-ins accepted until 4:00pm)
Sun: 12:00pm-5:00pm
(Walk-ins accepted until 4:00pm)
Call 469-535-6842
Schedule Telehealth Appointments
Available 6pm-10pm (Mon-Sun)
Fax: 817-809-2661