Knowledge Center
How to Increase Your Value as a Physician Assistant
November 9, 2020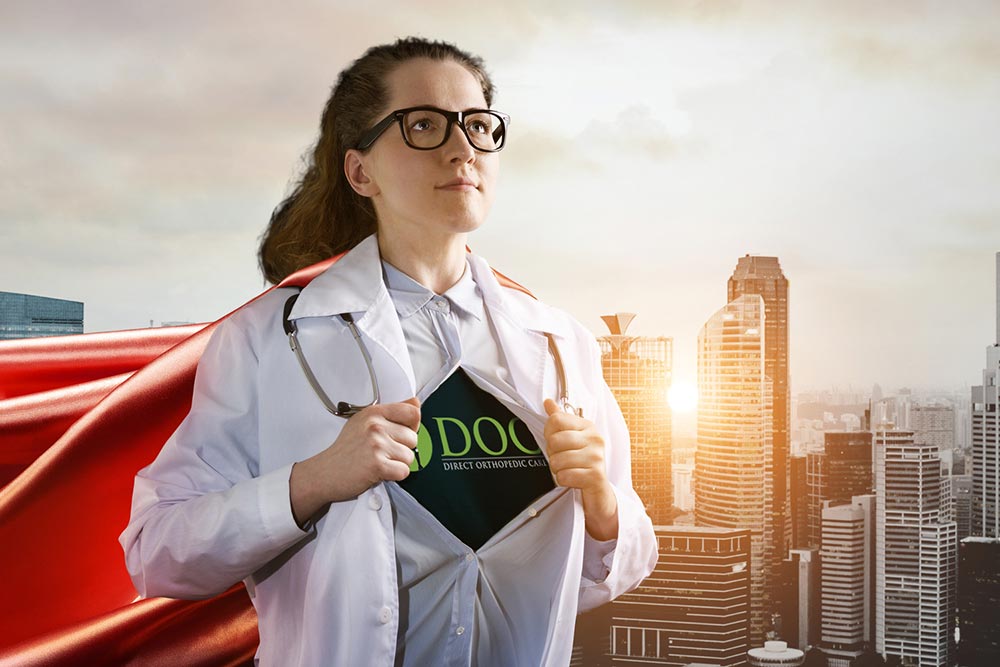 By Paul Lutter, DMSc, PA-C, Ortho (CAQ)
Chances are, you became a physician assistant because you want to make a difference in the field of medicine, improve patient care, have a rewarding career, become financially secure, and you love the science of medicine. Those are all excellent reasons for this career path! As a PA, you add a lot of value to the medical industry, as well as to the practice where you choose to work. Did you know, you can increase your value at your practice to ensure that your financial compensation is on par with what you're worth?
To increase your value as a PA, here is what you need:
Experience
While you don't have on-the-job experience fresh out of school, it is important to find a place to work where you are given the opportunity to experience a lot of growth. At Direct Orthopedic Care (a.k.a DOC), the nation's largest immediate access orthopedic clinics, we offer a unique model for physician assistants. Our PA roles really allow a physician assistant the opportunity to expand upon their training and knowledge and be able to practice on their own as the authoritative clinician.
Our development ranges from assisting in surgery to bone marrow aspirates for stem cell harvesting and injection, platelet-rich plasma (PRP) injections, diagnostic ultrasound, and a multitude of other in-office procedures that many other practices do not allow them to perform. Additionally, we offer a lot of training in the business side of medicine, including how to build your practice for exponential growth and financial benefit. We also offer transparency, so you are equipped with the knowledge of all of our financials to help you understand where every dollar in the practice comes from and goes.
Well-Roundedness
Everybody is looking for that experienced PA that could fit in seamlessly and just pick up where the last person left off and increase the volume in that practice for that physician.
If you're going to specialize within a certain field, for instance orthopedics, and you choose to sub-specialize further with foot and ankle, you might pigeon hole your career due to lack of general orthopedic experience. Once you step out of your current role, you may struggle unless you join another foot and ankle practice. Although you may have great administrative leadership experience on your resume after that, if you're expected to get back into a clinician role outside of your subspecialty experience, it's going to be a bit of a challenge.
Connection
It's not just the training and credentials that matter. Some PA's today are equipped with additional residency training and doctorate degrees, but that will only take you so far in building a successful practice. Do you connect with patients, and are you able to keep them coming back to you because of your commitment to service? Once you establish a relationship with your patient, ensuring you make the right recommendations for their individual health concern establishes trust and reliability. It helps them to better connect with you as a credible, compassionate advocate for their care. Which in turn keeps them coming back, as well as referring other patients to your practice, thereby expanding your potential for growth.
Passion
Do you eat, sleep, and breathe desire for your chosen field? Does it set your soul on fire? At DOC, we want the right people in the right seats doing the right job. At the same time, we want you to want to be here in this specialty because you have a specific desire for orthopedics. If you have any doubts about your choice of careers or specialty, it will be evident and decrease your worth.
Searching for a rewarding career as a PA where you're valued and appreciated, as well as compensated properly?
At Direct Orthopedic Care, we are always interested in candidates who want to expand their knowledge base and who are excited by the chance to become well-rounded, passionate professionals. Ideal candidates understand the direct link between clinic profit and their compensation, so they're willing to work hard to build and run their own practice in order to be appropriately valued and compensated. Our PAs create their own schedule, with the benefit of better hours than most anywhere else, with no rounding and no on-call schedule. If you're interested in starting a conversation to learn how you could become one of the top 1.5% of earners in the growing field of physician assistants, easily making a PA salary of $200,000+ per year let's talk! I can be reached at:
Or, if you'd like to learn a bit more about our PA opportunities click here: DOC PA Life
Paul Lutter, DMSc, PA-C, Ortho(CAQ)
Director DOC PA Service Line
Direct Orthopedic Care