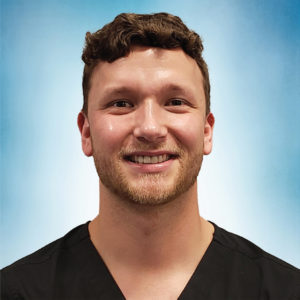 Brandon Smith, PT, DPT
Orthopedic Physical Therapist
Brandon Smith PT, DPT received his Doctorate of Physical Therapy at The University of North Texas Health Science Center.
Brandon is passionate about helping people realize their potential while guiding them on their way to recovery. He incorporates evidence-based practice in his treatments and focuses on helping his patients achieve their goals. He is working toward becoming an orthopedic certified specialist and currently has his dry needling certification. His main goal is to get his patients moving through therapeutic exercise, but he also utilizes pain neuroscience education and various manual therapy techniques when appropriate.
When he isn't at work, Brandon enjoys spending time with his Wife, Taylor and 4 year old son, Brody. He loves all Dallas sports teams, is active in his church, is way too competitive, is an avid reader, and plays basketball daily. He is excited to help DOC patients attain their rehab goals and get back to enjoying their life pain free.
Graduate:
The University of North Texas Health Science Center
Specialties:
Dry needling, General Orthopedics, Manual Therapy
You may see Brandon Smith, PT, DPT at the following location

Denton
Hours
Mon-Fri: 10:00am-6:00pm
(Walk-ins accepted until 5:00pm)
Sat: 10:00am-5:00pm
(Walk-ins accepted until 4:00pm)
Sun: 12:00pm-5:00pm
(Walk-ins accepted until 4:00pm)
Call 469-535-6813
Schedule Telehealth Appointments
Available 6pm-10pm (Mon-Sun)
Fax: 972-984-7521