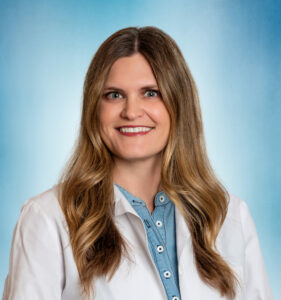 Cori Grantham, MD
Orthopedic Surgeon
Board-certified orthopedic surgeon Cori Grantham, MD, offers treatment for a wide range of conditions at Direct Orthopedic Care. With a focus on sports medicine, trauma, and shoulder and elbow reconstruction, Dr. Grantham's primary goals are to help injured patients get back to a healthy state and to teach young athletes to take care of their bodies.
A Dallas native, Cori grew up playing softball and participating in competitive cheerleading. She stayed very active in college and medical school through intramural sports. She received her medical degree from The University of Texas at Southwestern Medical School in 2006 and went on to complete her residency in orthopedics and a fellowship in sports medicine at The Keck School of Medicine at The University of Southern California (USC).
During her time at USC, Cori served as an assistant team physician for the Trojans, as well as a team physician for East Los Angeles College. Since that time, she has served as Medical Director for The Big XII Women's Basketball Tournament in 2013 and 2015 and continues to serve as team physician for Ursuline Academy in Dallas.
Dr. Grantham's work on new techniques for shoulder separation injuries has been published in the Official Clinical Journal of the European Society of Sports Traumatology, Knee Surgery and Arthroscopy (ESSKA).
In her spare time, Cori can be found cheering on her son at his sports competitions, spending time with family, and traveling.
Undergraduate:
University of Texas at Austin
Residency:
University of Southern California
Medical School:
University of Texas Southwestern
Fellowship:
University of Southern California
Honors & Memberships:
American Academy of Orthopaedic Surgeons
American Orthopaedic Society for Sports Medicine
Arthroscopy Association of North America
Dallas County Medical Society
Texas Medical Association
You may see Cori Grantham, MD at the following locations

Frisco
Hours
Mon-Fri: 10:00am-6:00pm
(Walk-ins accepted until 5:00pm)
Sat: 10:00am-5:00pm
(Walk-ins accepted until 4:00pm)
Sun: 12:00pm-5:00pm
(Walk-ins accepted until 4:00pm)
Call 469-535-6647
Schedule Telehealth Appointment Now
Fax: 972-987-0971

Plano
Hours
Mon-Fri: 10:00am-6:00pm
(Walk-ins accepted until 5:00pm)
Sat: 10:00am-5:00pm
(Walk-ins accepted until 4:00pm)
Sun: 12:00pm-5:00pm
(Walk-ins accepted until 4:00pm)
Call 469-701-2311
Schedule Telehealth Appointment Now
Fax: 972-810-1616