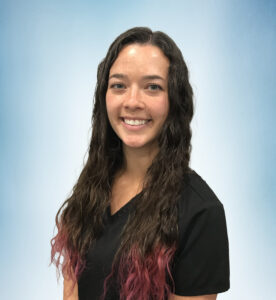 Lyndsay Garza PA-C
Orthopedic Specialist
Lyndsay grew up in Midland, Tx and moved to DFW in 2019 to attend PA school at UNTHSC in Fort Worth, Tx. She got her undergraduate degree at WTAMU in Canyon, Tx with a major in pre-med biology. Prior to PA school, she worked as an Advanced Emergency Medical Technician (AEMT) for three years in Randall County and Lubbock, Tx.
Since graduating from PA school, Lyndsay attended the PA Residency Program at Direct Orthopedic Care. After graduation she became a full-time provider with DOC. She enjoys educating guests about their orthopedic conditions and helping them achieve a full recovery.
Lyndsay currently lives in Lewisville, TX with her husband Jarret, and two dogs, Phantom Menace and Arya. In her free time she enjoys spending time with friends and family, running, reading, playing D&D and video games.
Undergraduate:
West Texas A&M University
Graduate:
University of North Texas Health Science Center in Fort Worth
Residency:
Direct Orthopedic Care Orthopedic Specialist Residency
Certifications:
Board Certified National Commission on Certification of Physician Assistants (NCCPA)
You may see Lyndsay Garza PA-C at the following location

Southlake
Hours
Mon-Fri: 10:00am-6:00pm
(Walk-ins accepted until 5:00pm)
Sat: 10:00am-5:00pm
(Walk-ins accepted until 4:00pm)
Sun: 12:00pm-5:00pm
(Walk-ins accepted until 4:00pm)
Call 469-535-6842
Schedule Telehealth Appointments
Available 6pm-10pm (Mon-Sun)
Fax: 817-809-2661