Knowledge Center
Ski Safety Tips
November 16, 2017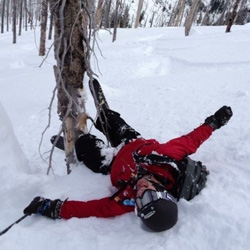 The National Ski Areas Association (NSAA) collects data from all ski areas in the United States annually. During the 2015/16 season, 52.8 million skier/snowboarder days were reported for the season. According to the US Consumer Product Safety Commission, there were 114,000 snow skiing-related injuries and 79,000 snowboarding-related injuries treated in hospitals, doctor's offices and ERs in 2014. Ski knee injuries are common, particularly injuries of the ACL and/or MCL. Skiers frequently put their arms out to break a fall, causing shoulder injuries, dislocations, sprains, and fractures. A skier's thumb is an injury caused by falling on an outstretched hand while holding a ski pole.
Head injuries can be especially serious. According to the 2015/16 NSAA National Demographic Study, 80 percent of skiers and snowboarders nationally wore helmets while skiing or riding. Studies show a dramatic decline in potentially serious head injuries, concussions, as helmet use increases. Several strategies help prevent ski injuries, such as appropriate equipment and skiing terrain that matches the skier's ability level. Ski lessons are necessary to safely shush from the top to the bottom of the slope, but also to fall correctly, reducing the risk of injury. Follow the steps of the NSAA Your Responsibility Code including:
Always stay in control.
People ahead of you have the right of way.
Stop in a safe place for you and others.
Whenever starting downhill or merging, look uphill and yield.
Use devices to help prevent runaway equipment.
Observe signs and warnings, and keep off closed trails.
Know how to use the lifts safely.
Those who break the code or violate rules at ski areas routinely lose passes and ski area privileges. Ski areas have undertaken programs to increase ski safety including family ski areas, slow zones, and more monitors and patrollers on the slopes.