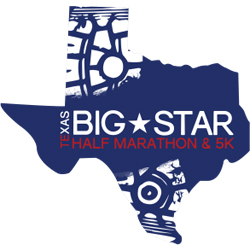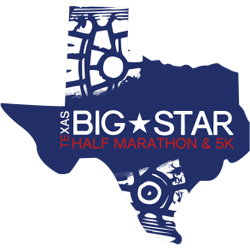 The 3rd annual Texas Big Star Half Marathon and 5K is Saturday, April 14, at Collin College's Preston Ridge Campus. The post-race Finishing Fest for the presentation of medals and runner recognition awards follows the race. DOC is a proud sponsor of the Finisher's Fest event, which has raised over $150,000 for charitable organizations in the North Texas community.
The start and finish of the Texas Big Star Half Marathon and 5K is at Collin College Preston Ridge Campus, 9700 Wade Blvd., Frisco, Texas 75035. In partnership with the Collin College Foundation, the 5K is now the Cougar Run 5K. The two courses are closed to traffic from 7:00 am until 11:00 am. A new event encourages participation among the general public, any age or size, a 1-mile fun run/walk.
The Texas Big Star Half Marathon begins promptly at 7:00 am with participants lined up in scheduled pacing groups. The Cougar Run 5K starts at approximately 7:15 am. Runners with the fastest projected finishing times are staged at the starting line and slower runners and walkers behind. The 1-Mile Fun Run/Walk is a fast or slow start, but at 7:15 am.
Water and Gatorade stations and portable restrooms are available throughout the course with locations indicated on the course maps. All runners are encouraged to consult their physicians for advice on fitness, precautions and preparation to run a half marathon or 5K.
Texas Big Star helps to support non-profit organizations in North Texas. Charity race beneficiaries include: Adaptive Training Foundation, Becky's Hope Horse Rescue, Boys and Girls Clubs, Camp Craig Allen, Clothe a Child, Canine Companions, Emily's Place, Collin College Foundation, Families to Freedom, and more.
Please stop by the DOC Finishers Fest booth for fun giveaways and to learn about immediate access to orthopedic specialists in Frisco. For more information on the race, go to runtexasbigstar.com.
Tags: 5K, Charity, Half Marathon, Race