Knowledge Center
5 Tips for High School Athletes Returning to Play After Deconditioning
August 25, 2020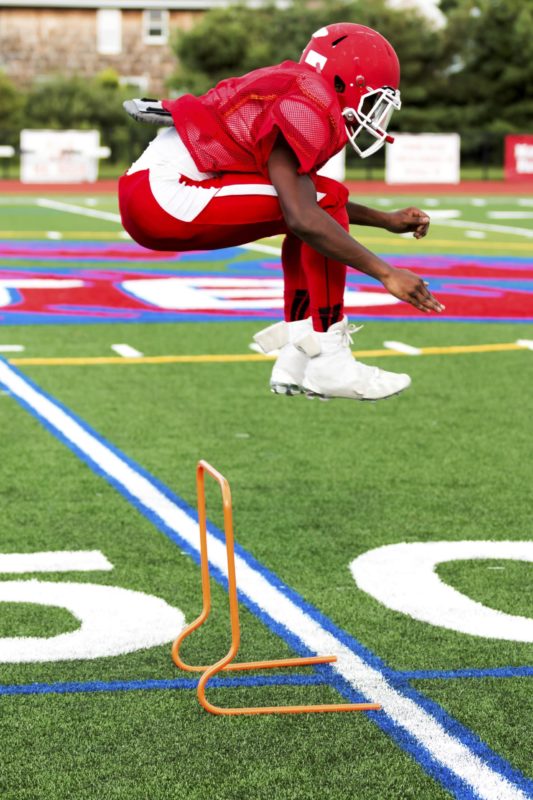 As athletes from the pro-level all the way down to high school return to play, it's likely that many will experience (often avoidable) injuries due to deconditioning. Having taken the sidelines for the last several months due to COVID-19 shutdowns, many student athletes are understandably excited to get back in the game. We encourage players to review these tips to help avoid emergency trips to our orthopedic urgent care centers for sports injuries.
Here are helpful return-to-play tips for your student athlete:
1. Talk to your orthopedic specialist.
The very first step to take when sports recommence is to check in with your orthopedic doctor to be given the all clear if you've suffered from an injury in the past. Old injuries sometimes resurface after deconditioning. Even if you haven't seen an ortho specialist, you may choose to see one of our providers to help reduce your risk, as well as optimize your athletic performance. At Direct Orthopedic Care, we have an innovative new tool our Physical Therapy team uses to screen athletes for injury risk and performance optimization. The Kinetisense functional movement system utilizes a movement data capture system with real-time biofeedback, that can take the guesswork out of training strategies and injury rehabilitation. With this tool, you are given a report that you can share with your coach, your trainer, parents, and the rest of your care team, so everyone's on the same page as to how to help you become the best athlete possible while minimizing your risk of being sidelined due to trauma.
2. Stretch it out.
If you don't stretch before activity, you put your body at a higher risk of injury. Muscles may tighten and create a strenuous pull on bones and other joint components, but stretching before and after workouts helps reduce soft tissue and muscle injuries. Begin with dynamic stretches before activity to warm up and prepare the body for exercise. End your workout with static stretches, holding a position for a period of time, to help cool down the body. Static stretches help alleviate muscle tension and assist the body during the recovery process by increasing blood flow to the area. Follow proper stretching guidelines from your coach. Parents, you can help your child remember to stretch by stressing the fact that the vast majority of pro athletes that are sidelined with injuries is due to soft tissue damage, and many times that injury could've been avoided with a proper warmup.
3. Ease back in & focus on technique, then building strength.
With the late start of the season, and a shortened one at that, student athletes may be in a rush to return to 'normal.' If you haven't been consistently conditioning as you normally would, try not to jump back in at the same activity level as before. You may find that your flexibility, speed, agility, and performance has declined over the last few months of reduced activity. Easing back in slowly will help avoid injuries, as well as symptoms of heat intolerance. We are at the peak of summer, which means it's hot! If you have been spending more time indoors, as well as inactive, returning to play outside without adjusting properly to outdoor temps can cause issues such as dehydration, hypotension, hyperventilation, vomiting and diarrhea, and more severe symptoms including seizures and coma. When first returning to conditioning, keep your focus on technique with weight-free basic exercises. Ask your coach to observe your workout for form, and once you've gotten back into the groove, then add weights to help build strength.
4. Hydrate, hydrate, hydrate – and hydrate some more.
Approximately 70% of every cell in your body is made up of water. Water helps cells function optimally, from muscle tissue to ligaments, and even the mildest level of dehydration can cause a host of internal issues in the body that play a role in athletic ability, from the musculoskeletal system to the heart. So, it is crucial to replace water lost to perspiration, respiration, and other natural processes. Hydration is critical for athletes, as it affects performance, including flexibility and endurance. Drink smaller amounts of hydrating fluids every 15 minutes before, during, and after activity, and more often if you feel thirsty. This helps your cells better absorb water. Check your urine for signs of dehydration. It should be clear before workouts.
5. Check your footwear.
Proper footwear can help safeguard the ankles and feet, as well as hips and knees. It's essential to wear the correct footwear based on your sport to help maintain your balance. Shop for athletic shoes in a sporting goods store, where you can be fitted to shoes that correctly form to your feet. While you're growing
As you get back to the game, listen to your body and don't try to push through any pain you experience when exercising. Rest when you need to, and remember that your health is your most valuable asset. If your muscles and other soft tissues, bones and other joint components aren't healthy, then you'll be a spectator rooting your team on for a win without you.
At Direct Orthopedic Care, we are your biggest fans! We want to see you enjoying your sport for many years to come. For questions about the Kinetisense functional movement system or to schedule a screening, please call us today at 855-898-2655.