Knowledge Center
Easy Injections Ease Pain
December 5, 2016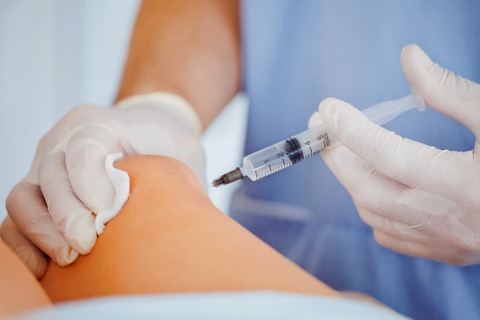 If rest, medications, and physical therapy do not relieve your osteoarthritis pain, an injection of a local anesthetic and a cortisone preparation or hyaluronic acid may help.   Cortisone, a type of steroid, is a powerful anti-inflammatory medication. It reduces inflammation and lessens or resolves the pain. Cortisone is injected into an inflamed or irritated region. It may be used for a wide variety of conditions including osteoarthritis, tendonitis and sports injuries. Corticosteroid injections provide significant relief within a few days. Hyaluronic acid injections, visosupplements, are typically used for treating osteoarthritis of the knee, one of the leading causes of disability in the United States. People with osteoarthritis have a lower-than-normal concentration of hyaluronic acid in their joints, which lubricates between bones and cartilage. The treatment regimen for hyaluronic acid usually involves receiving one injection in the affected joint, knee, per week for three to five weeks.  
Studies indicate that injecting supplemental hyaluronic acid may coax the joint into increasing the production of hyaluronic acid and help to preserve cartilage. "Hyaluronic acid is not a magic pill," says Dr. Moskowitz, coauthor of the Osteoarthritis Research Society International recommendations on treating hip and knee osteoarthritis, "but it has a definite role in … treating osteoarthritis of the knee."   In some joints or tendons, ultrasound or X-ray guidance may be required for precise needle positioning prior to injection. Direct Orthopedic Care (DOC) provides injection therapy, cortisone or hyaluronic injections to relieve pain and reduce inflammation. DOC is open seven days a week. No appointment is necessary.   For more information go to arthritis.org, Hyaluronic Acid Injections for Osteoarthritis, by Timothy Gower.
For more information on the cost of care, click here.