Knowledge Center
In a Pickle with Injuries?
July 5, 2017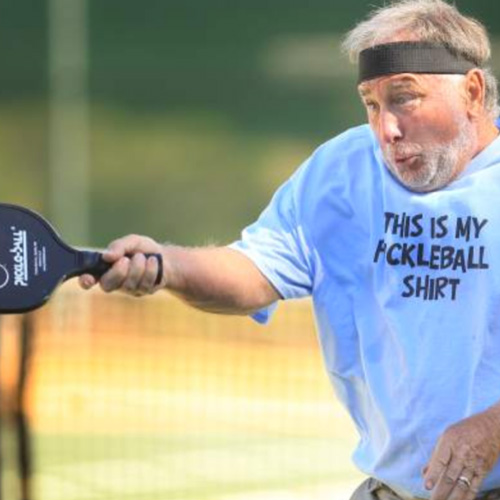 According to the Sports & Fitness Industry Association's 2015 Participant Report, 2.46 million Americans play pickleball. Pickleball is a paddle sport combining elements of tennis, badminton, and ping-pong. The paddle is smaller than a tennis racquet but larger than a ping-pong paddle. The plastic ball is similar to a whiffle ball and the game is played on a badminton-sized court with a slightly modified tennis net. People of all ages and skill levels play pickleball, indoors or outdoors. In 1965, Joel Pritchard, a congressman from Washington state, had a home on Bainbridge Island with an old badminton court. Pritchard and his friend, Bill Bell, started playing with the equipment on hand, ping-pong paddles and a perforated plastic ball. The men created rules based on badminton with the goal of designing a game that the family could play together. Joel Pritchard's wife called the game pickleball because the combination of different sports "reminded me of the pickle boat where oarsmen were chosen from the leftovers of other boats". Another story contends that the game was named after the Prichards' dog, Pickles, who would chase the ball and run off with it.
According to Racquet Network, the most common pickleball injury is a broken wrist. This occurs when a player moves quickly toward the back of the court and falls, extending the hand to break the fall and break the wrist instead. Other common pickleball injuries include ankle, Achilles tendon, heel, knee, and hamstring strains, sprains, or fractures. Direct Orthopedic Care treats pickleball injuries and has seen an increase in guests with pickleball injuries. Brandi Jones, PA with DOC, Irving, explains: I had never heard of pickleball until I started treating the injuries in the DOC office. One patient guest rolled her ankle while playing pickleball and kept playing because she hates to lose. Her teammates forced her to leave the court to come to DOC. She sustained an ankle fracture and bad sprain which we were able to diagnose and provide immediate treatment.
Some suggestions to avoid pickleball injuries include:
Good court shoes
Shorts or tight-fitting pants to avoid tripping
Goggles or protective eyewear
Regular exercise for core strength and balance
Warm-up and stretch before play
Fall properly to avoid wrist fractures
Hydrate, replenish electrolytes and eat healthy snacks
Cool down after play by stretching or walking
If injured, see the DOC orthopedic experts for care and follow the prescribed treatment and recovery protocol to ease back into the game of pickleball as soon as possible.
For more information on the cost of care, click here.
Sources