Knowledge Center
New PA Graduates: Here is How to Expand Your Horizons With Direct Orthopedic Care (DOC)
January 4, 2021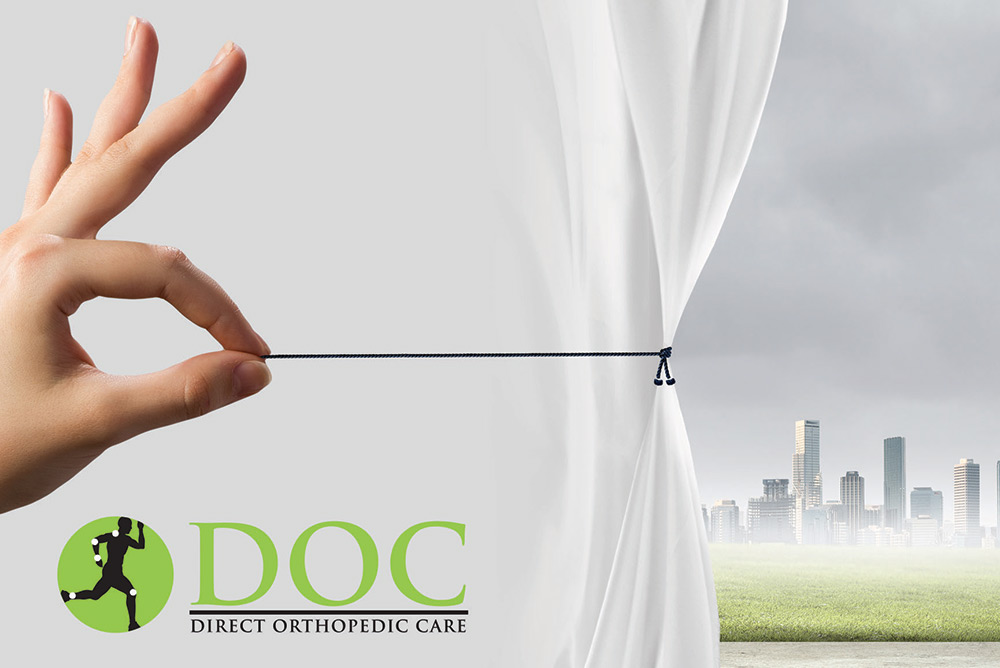 Becoming a physician assistant is a very satisfying career choice. You have the ability to improve access to healthcare, as well as to improve the quality of healthcare. Additionally, PAs are well paid, earning competitive salaries. Why not take that one step further and choose a career as a PA specializing in orthopedics?
Why Orthopedics Is the Best Choice for Physician Assistants
Orthopedics is a very fulfilling place to be if you're a physician assistant. Merritt Pember, MD and Chief Clinical Officer at Direct Orthopedic Care (DOC) believes that orthopedics is the best subspecialty for PAs for the reward of significantly improving the lives of his patients and having tangible evidence of that improvement.
"I chose orthopedics because we can make people better and do it fairly quickly. We can literally make people walk again, gain their independence back, and truly enhance their lives. Plus, the process of doing that is pretty amazing! We get to use knives, saws, drills, plates, screws, hammers, mallets and all these other tools that look like torture devices, but we're actually using them to make people better.
"Another thing we get to see is actually very much an objective performance of how we did through X-ray. You can see your work, which is unique in the field of medicine. For these reasons, orthopedics gives a certain satisfaction other fields of medicine are unable to," says Dr. Pember.
Pember continues, "Other areas of medicine in which they manage chronic conditions that never see improvement, such as monitoring a diabetic's glucose or simply tweaking medications, just doesn't give me the satisfaction that orthopedics does. Here, we diagnose an issue, treat it, and then see the results that are literally on an X-ray. That has just always been something I find amazing and still do to this day, 20-plus years later."
Dr. Pember also believes that orthopedics gives PA an amazing opportunity to become better practitioners of medicine, as they have the ability to diagnose and treat such a vast array of ailments. Patients come in from all walks of life with conditions affecting their musculoskeletal system, so there isn't the monotony where you're treating the same common ailments on a daily or even weekly basis.
Orthopedics as a specialty allows physician assistants to utilize all of their knowledge gained from education and training, as well as to continually increase that knowledge through innovative diagnostic and treatment methods that constantly pop up in the field. And oftentimes, those innovations are from other orthopedic PAs.
Why DOC Is the Best Place to Practice as a PA
According to Dr. Pember, "We expand a PA's skill set likely beyond what they thought possible through our PA residency program, where physician assistants are given a wide range of general knowledge in this sub-specialty, pediatrics to geriatrics, head to toe. So, in my opinion, we truly develop the most well-rounded orthopedic PAs out there, as they have experience and rotations through all body parts. They have time in the OR to learn assisting. They have clinic exposure and are doing things in clinics that most orthopedic practices don't. We're doing closed reductions in clinics, we're setting bones, reducing dislocations, applying casts, and other things that aren't always done in a clinical setting. All of our residents and PAs have exposure and learn those techniques."
Dr. Pember notes that all PAs at DOC learn diagnostic ultrasound, bone marrow aspiration, platelet-rich plasma (PRP) injections, and other clinical procedures that wouldn't be experienced or learned elsewhere. It is important to the physicians at DOC that PAs are utilized to the fullest extent of their education and training, as well as taught new diagnostic and treatment methods, so that they can practice independently and offer unparalleled patient care.
At many medical practices, physician assistants are often treated as medical scribes or medical assistants, expected to shadow the surgeon and follow their orders. DOC PAs, however, are given the opportunity to grow their own autonomous practice, though they always have the option to discuss cases with a physician when needed.
"We also offer something that is truly unique is the business side of medicine – how to maximize their practice in ways that they've probably never thought of. Our PAs have unlimited income potential here, and our top performer right now is set to make over $220,000.00 this year. How much you make is based on how well you perform, so it's key that you learn how to properly grow your practice," Dr. Pember adds.
DOC teaches PAs how to optimize earnings and patient satisfaction through a number of methods, including coaching and feedback based on key financial metrics. DOC offers full financial transparency, so PAs know exactly how much cash is coming in and where it is going to better help them understand their own value within the practice. It's also an accountability piece for DOC, as PAs are eligible for 15% of cash collections over a certain threshold. This outstanding and unusual incentive encourages our physician assistants to consistently build their practice.
Direct Orthopedic Care for PAs, the Clear Choice for a Gratifying Career
To achieve the greatest career satisfaction, become a PA at DOC. It is the pinnacle of perfection when it comes to career choice for a physician assistant. We are currently accepting applications and are seeking qualified candidates desiring a rewarding career with unlimited professional and financial growth potential. Interested in learning more about what a career with DOC can do for you after PA school?
Apply today at DOC Careers.  Or, if you need more information, please contact Jackie Mossakowski (DOC Recruiter) at 214.983.0403.   jmossakowski@directorthocare.com
Watch Our PA DOCumentary:  DOC PA Life