Knowledge Center
DOC PA Residency Program: Choosing Orthopedics as a Career Specialty
January 4, 2021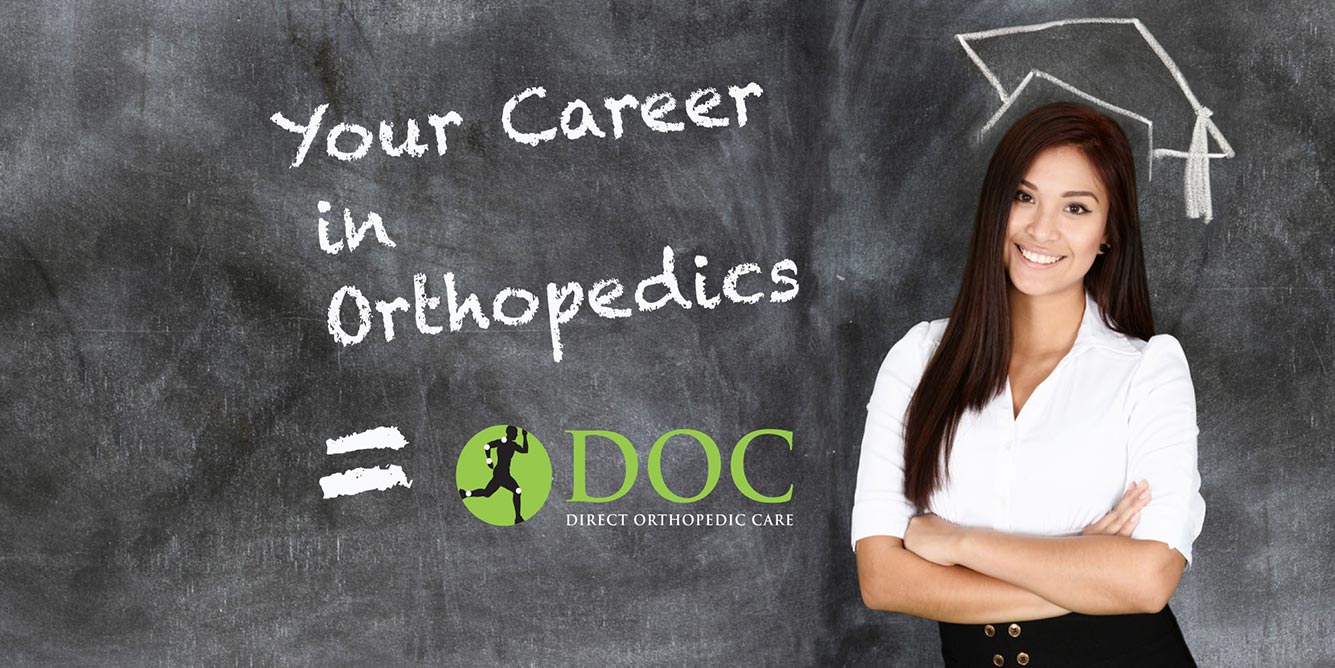 Seeking a rewarding and fulfilling career as a physician assistant? As Merritt Pember, MD and Chief Clinical Officer at Direct Orthopedic Care (DOC) says, the top field you can choose for this as a PA is in orthopedics.
"I chose orthopedics because we can make people better and do it fairly quickly. We can literally make people walk again, re-gain their independence and truly improve their lives. Plus, the process of doing that is pretty amazing! You can see your work, which is unique in the field of medicine. For these reasons, orthopedics gives a certain satisfaction other fields of medicine are unable to," says Dr. Pember.
So, now that you know why you should choose orthopedic medicine, let's take a look at why you should choose the PA residency program at DOC.
Why Choose Orthopedics at Direct Orthopedic Care as a Career Specialty
At DOC, our orthopedic residency program offers many advantages to physician assistants who wish to grow with us, including:
Autonomy to Practice Independently
DOC highly values the independent thought process and rewards PAs for it. Unfortunately, a lot of PAs are institutionalized by the typical usage of physician assistants, where they follow around a physician and are told exactly what to do and how to do it. This task-focused, physician-dependent role devalues independent thinking and reduces the ability of a PA to practice to the fullest extent of their education, training, and license. This is a great disservice to patients and PAs alike.
"I believe our PAs operate more independently certainly than most practices out there. They run the show as the lead in the clinic. They are the face of DOC. Also, they'll get a true expansion of their orthopedic knowledge. Instead of walking around, following a physician and just doing exactly what they tell you to do, you have the freedom to expand your skill set. You can start to practice the way that you think you ought to as opposed to the way that somebody else tells you to," Dr. Pember says.
DOC allows PAs to practice based on their experience and education and think outside the box. We seek out PAs who challenge the way things have always been done if there's a better way to do things. The providers here truly value the medical knowledge a new PA brings into the practice and they also expand upon it from there.
"We teach PAs diagnostic ultrasound, platelet-rich plasma (PRP) injections, bone marrow aspiration, and other clinical procedures. This helps to maximize their practice and expand their knowledge and skill set in ways that aren't often taught at other clinics. We want our PAs to be able to properly construct an accurate diagnosis and treatment protocol for each patient, in order to be better clinicians and provide the best service to the guests," adds Dr. Pember.
Support
While DOC PAs are able to practice independently, that doesn't mean they're going at it alone. There is an amazing team of orthopedic surgeons on staff to help physician assistants not only grow as a practitioner but also to help them build their own practice. PAs without experience in the business aspect of running a practice have the opportunity to learn from other successful professionals, without the trial and error process otherwise involved.
Dr. Pember notes, "There is always a surgeon available to discuss cases with you at all times, but for the most part, the PA is running their own independent practice. A surgeon is there to help out in difficult situations. Or, when a case comes in they may have a question about, the surgeon's sitting right next to them to help them as a colleague."
Additionally, the support team includes a unique community of over 15 PAs that collaborate with each other and share ideas. "One PA might know a whole lot about the hand, not so much about the spine, and if the spine PA is seeing something in the hand, they reach out to the PA with that specialty. They really do have a good working relationship. It's unique in that it happens across the multiple states and  cities where we have DOC locations," says Dr. Pember.
Worried about how to get guests in the door in order to build your practice? Don't be. Another piece of the support puzzle is DOC's marketing team. The aspect of finding new business has been taken out of the equation. The marketing team brings new patients to you, and you simply have to keep them coming back by engaging them and developing rapport, so they want to keep returning to you, as well as referring their friends and family.
"The opportunity to succeed will be put in front of you, and it truly is up to the provider to see and take advantage of that opportunity," states Dr. Pember.
Greater Earnings Potential
While many clinics offer PAs a base salary, which may or may not be accompanied by bonuses based on how much profit the practice makes, DOC offers unlimited earning potential. Independent PAs receive a competitive base salary, and two $10,000 bonuses after six months and one year just for staying on board.  From there, you are only limited by yourself when it comes to earnings, as you keep 15% of the cash you bring in over a certain threshold.
Furthermore, you don't have to wonder if you're hitting the threshold, as all DOC financial data are transparent, unlike at other practices where you're kept in the dark. DOC offers feedback, as well as coaching on key metrics to help grow your business.
Some of DOC's top providers are in the .5% of PA earners, with salaries over $200,000 per year. Dr. Pember notes, "At DOC we're a meritocracy, not an aristocracy, so we pay on performance. We really care about how well you perform, and our top performer right now is set to make over $220,000.00 this year."
How to Know If You're an Ideal Candidate for Success as an Orthopedic PA With DOC
At DOC, we invite you to come shadow one of our physician assistants to see if you're a great fit for this leading-edge way of practicing medicine. During your observation, we believe you'll see why you should choose to practice orthopedics with our team.
Already excited about this opportunity and want to jump on board? We are always looking to speak with qualified candidates who desire a career with the financial and professional independence that DOC has to offer.  
Apply today at DOC Careers.  Or, if you need more information, please contact Jackie Mossakowski (DOC Recruiter) at 214.983.0403.   jmossakowski@directorthocare.com
Watch Our PA DOCumentary:  DOC PA Life!
For more information on the cost of care, click here.