Knowledge Center
Posture Perfect for Computer Users
January 25, 2017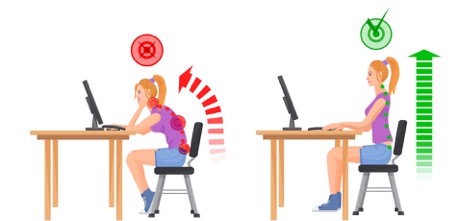 Regular computer users perform 50,000 to 200,000 keystrokes each day. Frequent computer use may be related to nerve, muscle, tendon, and ligament damage. If you use a computer for multiple hours each day, experts recommend that you consider proper workstation layout and posture techniques to minimize the risk of developing overuse injuries of the hand/arm, shoulder, neck, and back. Symptoms can include numbness in the fingers, sore wrists, lower back pain, general aches and pains in the neck, shoulders, arms, back, thighs, and lower legs (postural fatigue) or persistent pain or discomfort in muscles, tendons, and other soft tissue (repetitive strain injury).
The ideal workstation lets you work in natural (neutral) postures that minimize strain on your body to help you avoid uncomfortable postures such as hunching over, slouching, straining, or twisting. A comfortably seated computer working posture in which your joints are naturally aligned reduces stress and strain on the muscles, tendons and skeletal system.
Head, shoulders, and torso in line with the hips.
Elbows close to the body bent 90 degrees.
Wrists and hands in straight lines with lower arms.
Shoulders and upper arms relaxed and close to the body.
Back supported including lumbar (lower back) support.
Thighs and hips supported by a well-padded seat and parallel to the floor.
Knees are the same height as the hips.
Feet fully supported by the floor.
Dr. Sean Hassinger, an orthopedic surgeon with Direct Orthopedic Care, explains: Working in the same posture or sitting still for prolonged periods is not healthy. You should change your working position frequently throughout the day by stretching, standing or walking.
Some simple stretching exercises to help keep the joints and muscles limber include:
Stand up and stretch your arms over your head.
Tilt your head to one side (ear to shoulder); repeat on the other side.
Slowly bring shoulders up to the ears and hold briefly.
Hold arm straight out in front of you; pull hand backward with the other hand, then pull downward; hold; relax; repeat with the other hand.
If you suffer from computer-related overuse injuries, consult with the orthopedic experts at DOC for diagnosis and care. To learn about neck and spine conditions treated by DOC, click here. 
For more information on the cost of care, click here.