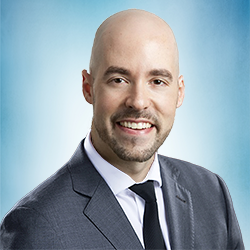 Brannon Frank, MD
Pain Management Specialist
Since 2005 Dr. Brannon Frank, a Board Certified Pain Medicine Physician, has helped people in Austin and the surrounding area who suffer with pain. He is a spine specialist whose goal is to help people suffering from neck, upper/mid-back, and low back pain regain their function by reducing their pain and avoiding surgery. Alongside treating spine pain, Dr. Frank is able to treat pain over the entire body. He offers many options for treating other painful problems such as arthritis, chronic abdominal and pelvic pain, headaches, fibromyalgia, and peripheral joint (knees, hips, shoulders, etc.) pain.
Over the years as a pain management physician in Austin, Dr. Frank has received many honors and held numerous leadership positions. Honors include: Austin Monthly Top Doctor, Castle Connolly Top Doctor, and Best of Kyle Award. Leadership positions previously held include: President of the Austin Pain Society, Vice President of the Austin Chapter of the Texas Pain Society, and Medical Director for Stonegate Surgery Center and his previous practice.
Dr. Frank prides himself on taking the time to listen and understand each of his guest's unique situations. He uses a multidisciplinary approach while avoiding the use of opioids to provide his guests with the most up to date treatment options, including regenerative medicine (stem cell and platelet rich plasma injections).
Undergraduate:
Texas A&M University – Graduated Summa Cum Laude
Residency:
Anesthesiology Residency – Emory University
Medical School:
University of Texas Medical Branch
Fellowship:
Pain Medicine Fellowship – Emory University
Specialties:
Interventional Pain Management, Regenerative Medicine
Honors & Memberships:
"Top Doctor" in Pain Medicine annually since 2020. Awarded by Castle Connolly.
"Top Doctors 2013" for Pain Medicine in Austin area. Awarded by Austin Monthly Magazine.
"Best of Kyle Award" as a physician. Awarded by Kyle Award Program
Certifications:
Board Certified in Pain Medicine by American Board of Anesthesiology
You may see Brannon Frank, MD at the following locations

Central Austin
Hours
Mon-Sat: 10:00am-6:00pm
Sun: 12:00pm-6:00pm
Call 512-675-1359
Schedule Telehealth Appointments
Available 6pm-10pm (Mon-Sun)
Fax: 512-599-9511

Round Rock
Hours
Mon-Sat: 10:00am-6:00pm
Sun: 12:00pm-6:00pm
Call 512-729-3138
Schedule Telehealth Appointments
Available 6pm-10pm (Mon-Sun)
Fax: 512-599-9181

South Austin
Hours
Mon-Sat: 10:00am-6:00pm
Sun: 12:00pm-6:00pm
Call 512-277-6643
Schedule Telehealth Appointments
Available 6pm-10pm (Mon-Sun)
Fax: 512-888-1202