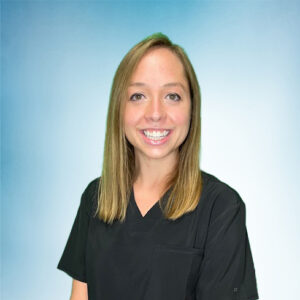 Erika Deardorf, PA-C
Pain Management Specialist
Erika is originally from The Woodlands, Texas. She received her bachelor's degree from Vanderbilt University in Nashville, Tennessee. While attending Vanderbilt, Erika competed as an NCAA, division one swimmer. She stayed in Nashville while earning her master's at Trevecca Nazarene University.
After completing her physician assistant studies, she then returned home to Texas and spent the next several years working as a surgical physician assistant in Corpus Christi. She has experience in both general and neurological surgery, but spent the majority of her time working in neurosurgery and treating patients with brain and spine conditions. It was during this time in neurosurgery where she found her calling to help patients in chronic pain.
Erika just recently moved to Austin. She enjoys swimming, running, and hiking in her free time.
Undergraduate:
Vanderbilt University
Graduate:
Trevecca Nazarene University
Honors & Memberships:
Magna Cum Laude at Vanderbilt University
Certifications:
National Commission on Certification of Physician Assistants (NCCPA)
Texas Medical Board
You may see Erika Deardorf, PA-C at the following locations

Central Austin
Hours
Mon-Fri: 10:00am-6:00pm
(Walk-ins accepted until 5:00pm)
Call 512-675-1359
Schedule Telehealth Appointments
Available 6pm-10pm (Mon-Sun)
Fax: 512-599-9511

Round Rock
Hours
Mon-Fri: 10:00am-6:00pm
(Walk-ins accepted until 5:00pm)
Sat: 10:00am-5:00pm
(Walk-ins accepted until 4:00pm)
Sun: 12:00pm-5:00pm
(Walk-ins accepted until 4:00pm)
Call 512-729-3138
Schedule Telehealth Appointments
Available 6pm-10pm (Mon-Sun)
Fax: 512-599-9181

South Austin
Hours
Mon-Fri: 10:00am-6:00pm
(Walk-ins accepted until 5:00pm)
Call 512-277-6643
Schedule Telehealth Appointments
Available 6pm-10pm (Mon-Sun)
Fax: 512-888-1202