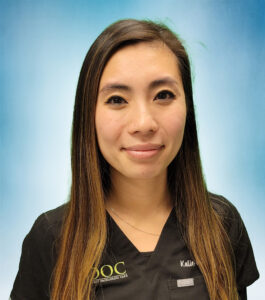 Katie Ho, MSN, APRN, NP-C
Orthopedic Specialist
Katie is a Texas native, born and raised in Houston. She received her Bachelor in Exercise Science from the University of Texas San Antonio. She then continued to obtain her Bachelor of Science in Nursing from the University of Texas Arlington where she graduated with honors. She spent 4 years working as a Registered Nurse prior to pursuing her master's degree in Family Nurse Practitioner studies at University of Texas Arlington with honors.
Katie spent 4 years as a Certified Pediatric Trauma Registered Nurse at Dell's Children Medical Center in Austin, Texas. She served in different leadership and preceptorship roles during her time there. Prior to joining Direct Orthopedic Care, she spent 3 years working with an Orthopedic Surgeon who specializes in orthopedic oncology, adult reconstruction, and limb salvation as his nurse practitioner in the Dallas Fort Worth Metroplex. Overall, she has over 10 years of healthcare experience counting her time as a rehabilitation therapy tech during her collegiate studies at Encompass Rehab.
Katie recently relocated back to Austin, Texas. She loves spending time with her family, friends, and dogs. She enjoys interior decorating, trying out new restaurants, and hot Cheetos.
Undergraduate:
University of Texas San Antonio
Graduate:
University of Texas Arlington
Honors & Memberships:
Sigma Theta Tau National Nursing Honor Society
American Academy of Nurse Practitioner
Certifications:
Family Nurse Practitioner
You may see Katie Ho, MSN, APRN, NP-C at the following locations

Central Austin
Hours
Mon-Fri: 10:00am-6:00pm
(Walk-ins accepted until 5:00pm)
Call 512-675-1359
Schedule Telehealth Appointments
Available 6pm-10pm (Mon-Sun)
Fax: 512-599-9511

South Austin
Hours
Mon-Fri: 10:00am-6:00pm
(Walk-ins accepted until 5:00pm)
Call 512-277-6643
Schedule Telehealth Appointments
Available 6pm-10pm (Mon-Sun)
Fax: 512-888-1202