Knowledge Center
Ultimate Frisbee Injury Prevention
September 6, 2018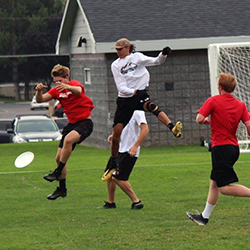 Since the early 1970s, ultimate Frisbee, played with a flying disc, has exponentially increased in interest among college students and young athletes.
It's a limited-contact sport that combines elements of soccer, football, and basketball. Players must run, cut, guard, jump, throw, and dive with outstretched arms to catch the flying disc.   Because of the intricate movement patterns and a high level of endurance required in flying disc games, this sport can sideline any athlete with injuries. A study of "Injuries from Ultimate Frisbee" published in the U.S. National Library of Medicine National Institute of Health, 135 adult ultimate Frisbee athletes reported injuries, including muscle strain, ankle, knee, shoulder, and rib injuries. Seventy percent of the players have sought medical care for ultimate Frisbee injuries. Recurrent injuries occurred with 49% of the athletes.
According to "Incidence and Description of Epidemiology of Injuries to College Ultimate players" published in the Journal of Athletic Training: "Men were three times more likely to separate or dislocate their shoulders. Women were seven times more likely to tear a knee ligament. Ankle sprains were the most common injury." Injury patterns for college ultimate players are similar to those for athletes in other National Collegiate Athletic Association sports. The study concluded: "Because 40% of injuries involve running or overuse activity, future interventions should address running form, better recovery methods after ultimate games and practices, and more appropriate warm-up routines."  
The best strategies to prevent injuries include:
Warm-up prior to playing
Preseason and in-season strengthening and conditioning
Soft landing with knees bent to absorb impact
Proper cutting techniques
For more information on cutting, watch Ultimate 101: Cutting –
The DOC orthopedic surgeons, specialty-trained PAs, and physical therapists are sports medicine experts for musculoskeletal sports injuries, such as injuries associated with ultimate Frisbee.   The ultimate Frisbee tournament calendar is e-published at play.usaultimate.org.
For more information on the cost of care, click here.