Knowledge Center
Why Orthopedic-Specialty Physician Assistants Are Choosing Independence
November 9, 2020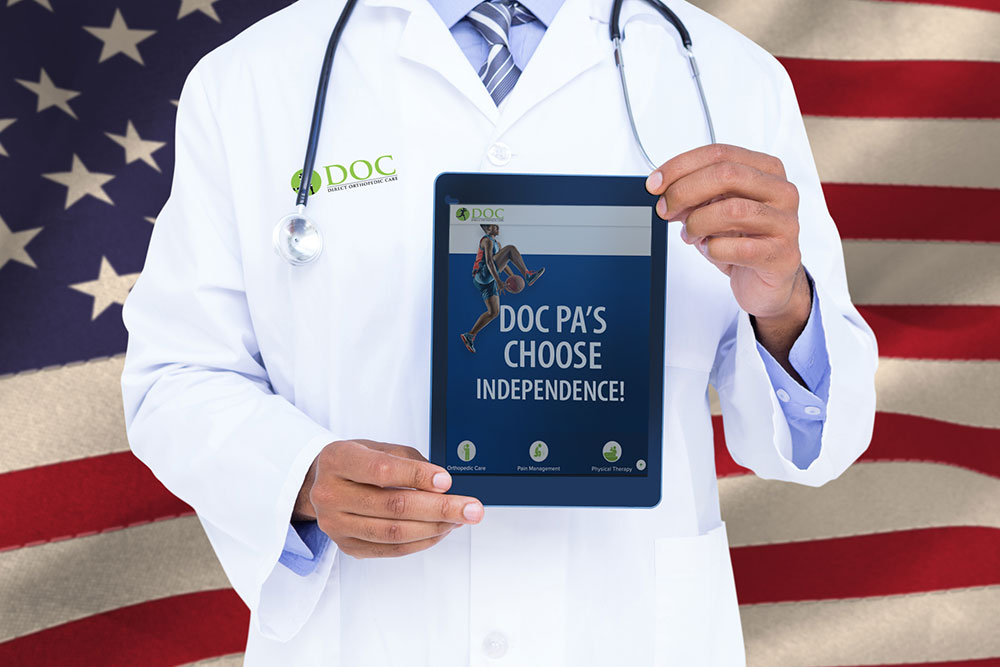 Though in many medical practices physician assistants are seen as dependent providers, the practice itself is often dependent upon PAs to successfully operate. When they are properly utilized as independent providers within their scope of training, the importance of the PA role in health care cannot be understated. They free up time for surgeons to actually perform surgery by conducting consultations, follow-up visits, and  phone conversations. Many PAs are successfully able to run their own practice as the primary provider, experiencing greater freedom, flexibility, financial gain, and many other benefits. Here's why more orthopedic-specialty PAs are choosing independence.
Autonomy – Opportunity to Run and Build Your Own Practice
According to Paul Lutter, DMSc, PA-C and Director of the PA service line at Direct Orthopedic Care (DOC), "Unfortunately, a lot of PAs get institutionalized, if you will, on the typical concept of the utilization of a PA, and it's a less independent thinking, more task oriented practice where they're told and directed how and when to do things. And so, that can stifle the independent thought process of how they're originally trained. The typical application of PA practice is a very dependent provider role. PAs are kind of shackled, if you will, on their ability to actually practice at the full extent of their training and license."
At Direct Orthopedic Care, or DOC,  PAs are given autonomy over their own practice while supporting their independence. DOC encourages outside-the-box thinking, allowing PAs to practice orthopedics the way they believe it should be practiced according to their education and experience, not just because something's always been done that way. "I think if somebody is looking for great independence and autonomy, and really the ability to build something for themselves this is the place to be," says Lutter.
That's because DOC physicians support the PA profession and thoroughly understand what they bring to the table. In many clinical settings, PAs are treated as overpaid scribes or medical assistants, following a physician around and taking small task-oriented orders, and perhaps even following a shared schedule model, surprising patients who think they are seeing their physician and are unaware of what a PA is. This can have disastrous consequences for both guests and PAs alike, leaving both feeling undervalued.
"We expand a PA's skill set likely beyond what they thought possible. We offer first assist surgical instruction, methods of fracture reduction coupled with casting and splinting, we teach bone marrow aspirates, platelet-rich plasma (PRP) injections, diagnostic ultrasound, in-office procedures, and more clinical procedures they aren't likely to learn anywhere else. And something that is truly unique is DOC's development of showing PA's the business side of medicine, how to truly maximize a PA's own practice in ways that they've probably never thought of," Lutter says. "We understand what they bring in with the volume of medical knowledge in PA school: to be a good clinician and to be able to formulate the right diagnoses and treatment protocols, and we expand upon their knowledge from there."
Greater Financial Opportunity
Along with that autonomy and learning how to maximize your practice comes a greater financial reward. When you are responsible for building your own practice, you are a stakeholder in the financial side of the business. Most clinics offer a base salary, and if you're lucky, they may also offer a discretionary bonus based upon how well the practice does (or the surgeon's discretion). You're kept in the dark about financial data, as well as the value you're adding to the practice by freeing up the physicians / surgeons.
At DOC, as an independent practitioner, you receive a higher salary that is already in the top percentile in the country for your base salary, with unlimited potential for bonus earnings. You are only limited by your own limitations when it comes to financial gain. We offer coaching and feedback from skilled clinicians on key metrics to help you increase your ability to build your practice. Not only do you receive bonuses, but you keep 15% of your cash collections over a certain threshold.
And while it does take an investment of time to build your practice, choosing independence means that you are free to choose your own hours. If you don't want to be on call, you no longer have to be. No longer does your professional life have to bleed into your personal life after hours. Of working autonomously, Lutter notes, "Now, I get to demonstrate the training and the ability that I was trained to, and utilize that in a clinical setting in a 40 hour work week with no rounding, and no call."
Seeking a career as a PA where you can be more independent, have control over your schedule, and make more money?
At Direct Orthopedic Care, we're seeking physician assistants just like you! Ideal candidates are well-rounded, educated, passionate professionals who are willing to put the time and effort into building their own practice with unlimited growth and income opportunities. PAs at DOC experience greater autonomy and compensation than nearly anywhere else, with some of our top providers in the 1% of earners in the field with salaries over $200,000 per year.
If creating your own schedule, no call schedule or rounding, and an unsurpassed compensation package sounds great to you, let's talk!  You can apply directly at DOC Careers.
Or, if you'd like a bit more info, speak with Jackie Mossakowski, DOC Recruiter at 214.983.0403.
Watch our PA DOCumentary: DOC PA Life