Knowledge Center
DOC in Joan's AT Toolbelt
April 17, 2018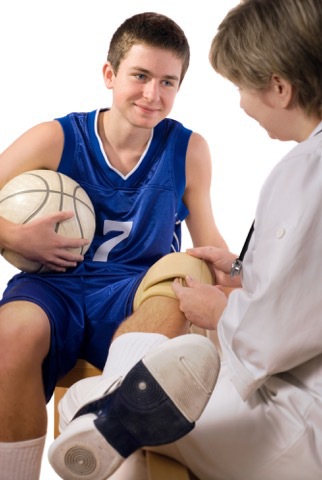 Joan is a certified athletic trainer in Texas. She describes DOC as a tool "in my healthcare tool-belt." She explains why DOC is a valuable resource for her student athletes: "DOC is open on weekends when my athletes are in pain or injured."
Approximately 47 million children play team sports each year in the U.S. Texas leads the nation in the number of high school football players. A study was undertaken to determine the incidence of injury in Texas high school football. Certified athletic trainers were the initial medical professionals providing on-site diagnosis and treatment of all injuries. A total of 4,399 athletes in varsity football programs participated in the study. There were 2,228 injuries, giving an incidence of injury of about half of the football players.
In 2014-2015, 60% of injuries reported to an athletic trainer by high school athletes were sustained in competition or practice. Student athletes suffer from concussions, heat related injuries and traumatic injuries. Typically, traumatic musculoskeletal injuries are knee injuries of the ACL, MCL, or both, or shoulder injuries, including dislocation and rotator cuff tears. Joan relies on DOC to care for her student athletes traumatic sports injuries because they have "helpful, very knowledgeable and highly- qualified orthopedic surgeons and specialty-trained physician assistants."
Sports injuries account for 20% of all injury-related ER visits for children 6-19 with soaring medical costs of approximately $1 billion per year. Athletic trainers can help athletes and their parents avoid the wait and the cost of the ER by referring sports injuries to DOC. Joan confirms, "The costs are reasonable and my parents, students and myself can skip the ER."
The National High School Sports-Related Injury Surveillance Study by Dr. R. Dawn Comstock, Colorado School of Public Health, of the 2014-2015 school year was compiled with complete and accurate data provided by certified athletic trainers. "While the health benefits of a physically active lifestyle including sports participation are undeniable, participants are at risk of injury … during any physical activity, especially those with a competitive component. However, injury rates among high school athletes should be reduced to the lowest possible level without discouraging adolescents from engaging in this important form of physical activity. This goal can best be accomplished by … developing, implementing, and evaluating evidence-based preventive interventions."
Joan agrees: "An athletic trainers' most important job is student athlete injury and overuse prevention through proper training, appropriate equipment, good nutrition, hydration, and sleep, but injuries happen. DOC cares for my athletes when I need an orthopedic specialist to diagnose the injury, start treatment, and get my kids back in the game." DOC is an excellent tool in Joan's toolbox for orthopedic care when needed, even weekends.
For more information on the cost of care, click here.