Knowledge Center
Good Workers' Comp Advice for Employees
July 17, 2018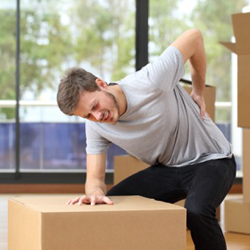 When you break your ankle on a slippery office floor, fall off your chair and fracture your wrist, or develop a chronic condition because of your job, workers' compensation is supposed to cover your medical costs and pay you for any days of work you miss. You must be an employee and accidentally injured while doing your job or get sick from doing your job to qualify for workers' compensation.
You need to report any work injury or illness due to your job to the HR department, your supervisor or the risk-management department when it occurs. "You should get an incident report to fill out, and the company should help you obtain medical treatment," Rebecca Shafer, Advisor & Editor of Amaxx Risk Solutions, a workers' compensation consulting firm in Hartford.   If your injury is an emergency, you'll go to the ER. In a non-emergency situation, your employer may direct you to a particular clinic or doctor. For example, if you slip and break your wrist, Direct Orthopedic Care is the most time and cost-efficient orthopedic healthcare option. According to a review of more than 1.5 million workers' compensation claims by The Travelers Companies, strains and sprains are the most common worker injuries.  
DOC's orthopedic surgeons and specialty-trained PAs are qualified to diagnose and treat any musculoskeletal injury or condition, including strains, sprains, fractures, and overuse issues.
When you're filling out the paperwork at the hospital, family practice office or DOC, be sure to communicate that your injury happened at work so your medical bills are sent to the insurance company or your employer. Your medical records need to mention the circumstances of your injury or history of your illness or condition and list every body part involved. Make sure that you understand your company's workers' compensation program. Check out your state's workers' compensation information. Texas does not require companies to have workers' compensation insurance. For more information about Texas workers' comp insurance, go to tdi.texas.gov. Workers' comp is no-fault insurance, so you're covered even when the accident is your fault … with exceptions. If you are playing at work and not working and get hurt, workers' compensation won't cover you in some states. If you get high or drink alcohol on your way to work, you'll be paying your own medical bills. Most employers require a drug test after an accident and if the test is positive, your claim will be denied. Unfortunately, cheating or malingering is common in workers' compensation. "Malingerers get caught because insurers and employers make home visits … do surveillance," Shafer says. "It may take a while, but chances are pretty good you'll get caught, and if you do get caught, it can mean jail time." DOC works with and communicates often with your employer and healthcare provider to manage your recovery to get you healthy and back to work as soon as possible.