Knowledge Center
Step Into DOC for Foot Disorders
July 23, 2018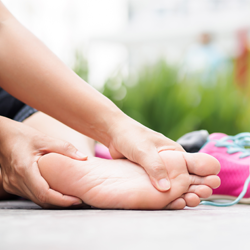 The foot, one of the most complex structures in the human body, is made up of 26 bones, 33 joints, and over 100 muscles, tendons, and ligaments.
The foot balances the body's weight and enables walking, running and playing sports. There are many different types of foot injuries and problems that can interfere with an active lifestyle. The typical American spends about four hours each day standing on his or her feet, taking about 5,000 steps in the process. Most fitness experts suggest a daily 10,000-step goal or five miles, which satisfies the CDC's recommendation of 150 minutes of moderate exercise per week.  
About 87% of people suffer from foot pain at some point in their lives and can't take 5,000 to 10,000 steps a day.
Some common foot problems include Achilles tendonitis, plantar fasciitis, arthritis, podiatric-related diabetes issues, bunions, gout, corns and calluses, heel spurs, turf toe, tarsal tunnel syndrome, and stress fractures. The most common broken bones in the foot are toes, which may occur from dropping a heavy object or bumping into a hard surface. Seek treatment for foot issues as soon as possible. DOC is open seven days a week for guest convenience and immediate care. Treatment may vary from better shoes or orthotics to surgery. Both open surgery and arthroscopy, a minimally invasive procedure that involves both inspection and repair of the foot through small incisions and a lighted instrument, an arthroscope, are common surgical remedies for foot problems.  
For more information on the cost of care, click here.