Knowledge Center
Hydrate to Avoid a Summer Bonk
April 10, 2017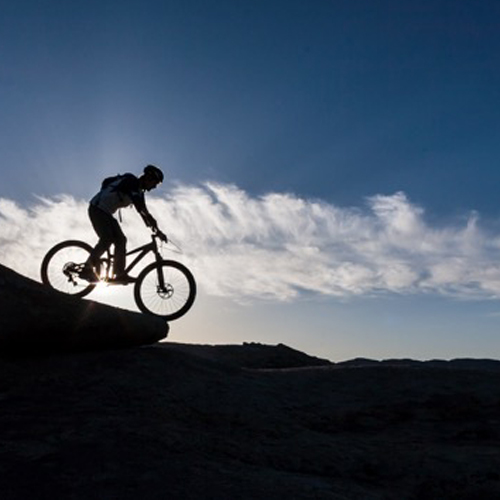 In the heat of summer when there are exceptionally high temperatures, proper hydration is crucial. Water plays an important role in keeping your body healthy, including flushing out waste products and regulating body temperature. The human body is made up of about 60 percent water. According to the Institute of Medicine, the adequate intake for healthy men is roughly 13 cups or 3 liters of fluid per day. Intake for healthy women is about 9 cups or 2.2 liters of fluids per day. When participating in intense exercise for more than an hour or enduring heat with excessive perspiration, it is necessary to replenish fluids and electrolytes. The American Academy of Orthopaedic Surgeons recommends drinking 24 ounces of non-caffeinated fluid 2 hours before exercise. While exercising, break for 8 ounces of water every 20 minutes. If fluids are not replaced, we become dehydrated, which can result in a serious heat-related injury.
Two avid cyclists and orthopedic surgeons at DOC decided to mountain bike an epic route on the secluded single-track Colorado Trail. Part of the trail was hike-a-bike terrain and most of the trail was indistinguishable and above treeline. They misjudged the amount of water and food needed for the intense ride. One of the bikers completely bonked, a serious case of dehydration and lack of nutrition. He did not have fluid to replace lost fluid from exertion. The other rider shared his meager fare to enable both of them to reach the end of the trail. In the meantime, the friend expecting the riders before dark called Search and Rescue. A police officer met them at the final trailhead and drove them to Lake City. Our surgeons lived to tell their tale as wiser riders and advocates for hydration before, during and after exercise.
General Recommendations
Allow frequent periods of rest and hydration during activity.
Make sure you are well hydrated before exercise and rehydrated after exercise.
Gradually increase activity over 7 to 10 days to allow adequate acclimatization.
Wear lightweight, light-colored clothing.
Protect against sun exposure with sunscreen.
Schedule outdoor exercise at the coolest time of day, either early morning or after sunset.
Routinely monitor changing weather conditions.
Postpone or cancel your activity during extreme heat and humidity conditions.
The orthopedists at DOC are experienced in treating all orthopedic sports injuries. At DOC, you have immediate access to the physicians and PAs who can actually diagnose and treat your injury without the wait or expense of the ER. For more information on the cost of care, click here.
Sources