Knowledge Center
Making Health a Habit with PT
July 26, 2018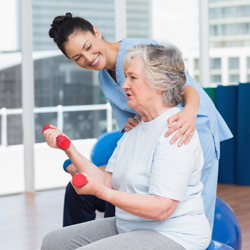 Each year, an estimated 126 million healthcare visits are from musculoskeletal injuries and chronic conditions, according to the Bone and Joint Initiative USA. So over a million people could benefit from physical therapy. Only about 10% of the musculoskeletal patient population uses physical therapy services. The average PT course of care is 12 to 24 sessions for six to 12 weeks for soft tissues, fractures or joint replacements to heal. Unfortunately, only 30% of patients who are prescribed physical therapy services complete the PT program their physical therapist recommends an insurance company authorizes. For recovery to be long-lasting and to accelerate healing, it is essential to take advantage of the Doctoral trained, musculoskeletal expertise of the physical therapist. When patients are in pain, they prioritize PT, but as they heal, attending sessions becomes a lower priority. Physical therapists help guests to return to their prior level of functioning and encourage activity and lifestyle changes that can help prevent further injury and improve overall health and well being.
Based on a study in the British Journal of General Practice on the psychology of habit formation, a new behavior, lifestyle change, becomes automatic in 66 days, more than two months. Of course, forming a new behavior varies, depending on the individual and the situation. By completing a customized physical therapy plan as prescribed, a DOC guest will benefit from less pain and faster recovery with the added advantage of new healthy behaviors becoming automatic. Based on the study, a guest needs the inspiration and reinforcement of the physical therapist during the behavior change process in order to actually embrace and implement positive behaviors that last and remain automatic after therapy. A customized regimen is designed for each guest by the DOC physical therapist and orthopedic healthcare team based on the musculoskeletal injury or condition. The goal is to promote long-lasting wellness during and after completion of the PT plan.
For more information on the cost of care, click here.
Sources