Knowledge Center
No Smoking Before and After Surgery
December 12, 2017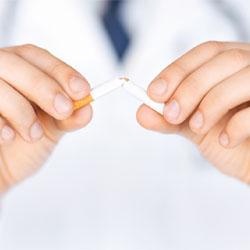 Approximately 20% of the U.S. population smokes cigarettes. More than 440,000 people in the U.S. die each year from tobacco-related diseases. Smokers generally live 7 to 10 years less than nonsmokers.
Cigarette smoking is a major cause of preventable disease.
It is linked to heart and respiratory diseases, cancers, and bone, muscle, and joint damage, often resulting in poorer outcomes after orthopedic surgery. Bones, organs, and tissues are nourished by blood packed with nutrients, minerals, and oxygen traveling through the bloodstream. Nicotine causes the blood vessels to constrict to about 25% of their normal diameters, decreasing levels of nutrients and interfering with bone healing after surgery. Nicotine slows the production of bone-forming cells, which inhibit bone fusion and slows recovery.  
Smoking negatively affects the bones and tissues that make up the musculoskeletal system and the body's ability to heal:
Smokers are 1.5 times more like to suffer overuse injuries, such as bursitis or tendonitis.
Smokers are more likely to suffer traumatic injuries, sprains or fractures, because of fragile bones and osteoporosis.
Smoking is associated with a higher risk of low back pain and rheumatoid arthritis.
Smokers have a higher rate of complications after surgery because of poor wound healing and infection.
Many effects of smoking are reversible. Quitting smoking can help the body regain some of its normal healthy functions. Find out about support programs. The American Lung Association is a good place to start. Call 1-800-QUIT-NOW or go to www.smokefree.gov to speak with a professional "quit coach" free of charge. Researchers note that patients who quit smoking have fewer complications and improved outcomes for surgical treatment of musculoskeletal conditions and injuries. Before planning orthopedic surgery, discuss tobacco use with the DOC surgeon.  
Sources