Knowledge Center
Fall Sports Falls
September 6, 2017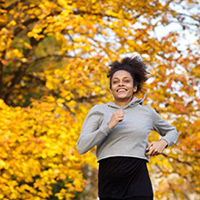 Football, soccer, cheerleading, and volleyball are popular fall youth sports activities. To help reduce the risk of common injuries, the American Academy of Orthopaedic Surgeons, AAOS, and the American Orthopaedic Society for Sports Medicine, AOSSM, offer sports safety tips. AOSSM created the STOP Sports Injuries program to help parents, coaches and healthcare providers learn more about prevention, treatment, and consequences of overuse and trauma injuries among children.
Tips For Preventing Fall Sports Falls and Injuries
According to Dr. Meritt Pember, an orthopedic surgeon with Direct Orthopedic Care, DOC: Overuse injuries are the most common types of sports-related injuries. When injured, the best advice is to come to an orthopedic specialist for early diagnosis and treatment because an undiagnosed injury can become more severe if left untreated.
Fall Sports Safety Tips
Have a pre-season physical examination.
Warm-up and cool down properly with low-impact exercises.
Consistently incorporate strength training and stretching.
Hydrate to maintain health and minimize muscle cramps.
Watch for unsafe playing surfaces.
Don't play if in pain. Consult with an athletic trainer or orthopedic sports medicine specialist.
Wear protective gear as necessary equipment for the sport.
Cross-train with other sports to minimize overuse injuries.
Be alert to weather conditions.
Avoid pressure to over train.
More sports injury prevention tips can be found at STOPsportsinjuries.org (link below). The orthopedic healthcare experts at DOC can diagnose and provide the highest level of treatment to help students get back in the game.
For more information on the cost of care, click here.
Sources