Knowledge Center
Sports Nutrition
September 11, 2017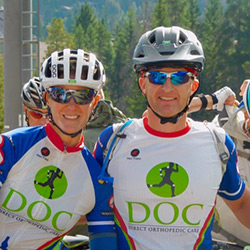 Athletes who want the winning edge need proper sports nutrition. When your body has the right fuel by drinking enough water and eating a balanced diet, you will make the most of your athletic talents and gain strength, power, and endurance.
Sports Nutrition Tips for Athletes
To achieve top performance, your diet should be based on a variety of factors including your age, weight, physical condition and the type of exercise. Consult your sports medicine orthopedic specialist at DOC for individualized sports nutrition advice.
Hydration. Water is the most important nutrient for athletes. Water comprises about 60% of body weight and is essential for almost every bodily function. Your body cannot make or store water so water must be replaced when depleted in urine or sweat. Everyone should drink at least two quarts of water each day and athletes need more, before, during and after sports activities. Experts recommend 24 ounces of water 1 to 2 hours before exercise and 8 ounces every 20 minutes during competition.
A Balanced Diet. A balanced diet is another key to sports nutrition. Eating the right combination of calories from carbohydrates, proteins and fats will give you energy for top performance. Carbohydrates are the most important source of fuel and should provide about 60% to 70% of your daily calories. The body converts sugars and starches into carbohydrates and energy to give you endurance and power for high-intensity, short-duration activities. If exercising for longer than one hour, eat additional carbohydrates to replenish energy and delay fatigue. Proteins should provide about 12% to 15% of your daily calories. Your body cannot store extra protein so it burns protein for energy or converts it to fat. The amount of protein you need depends on your fitness level, exercise type, intensity, and duration. Fats should provide no more than 20% to 30% of your daily calories. Your body needs fat, which supports cell growth, protects organs, keeps us warm, absorbs nutrients, and provides an alternative energy source. When resting or exercising at low to moderate intensity, fat is the primary fuel source. As you increase the intensity of your exercise, carbohydrates are the fuel source. To avoid running out of carbohydrates for energy, athletes, including long-distance runners, swimmers, and bicyclists, load their muscles with glycogen. They eat extra carbohydrates and exercise to depletion several days before an event. Then they eat a high-carbohydrate diet and do a little exercise for three days before an event. Some athletes believe that following this regimen ensures that muscles loaded with unused glycogen will provide energy for an endurance competition. Dr. Sean Hassinger, a DOC orthopedic surgeon and avid bicyclist, rode the 2017 six-day Breck Epic mountain bike race held in the backcountry around Breckenridge, Colorado. The race is 240 miles with 40,000 vertical feet of gain. DOC's coed team finished in third place. Dr. Hassinger practices the carbohydrate loading regimen for high-intensity bike races. He explains: Carb-loading gives me the energy and stamina I need for a multiple-day, intense bicycling competition. I advise my guest patient athletes at DOC about the best nutrition protocol based on their general health and preferred sports and exercise activities.
Consult your sports medicine orthopedic specialist at DOC for best nutrition practices for you.