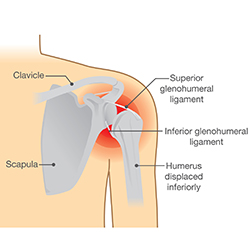 A shoulder dislocation occurs when the head of the upper arm bone is forced out of the shoulder socket as the result of a sudden injury or from overuse. Once a shoulder has dislocated, it may dislocate again. When the shoulder dislocates repeatedly, the condition is called chronic shoulder instability.
The shoulder is made up of three bones: upper arm bone (humerus), shoulder blade (scapula), and collarbone (clavicle). The shoulder is a ball and socket joint. The ball or head of the upper arm bone fits into a shallow socket, the glenoid, in the shoulder blade. Connective tissue, ligaments, tendons and muscles, keeps the head of the upper arm bone centered in the glenoid socket and the shoulder stable.
When the ball of the upper arm partially comes out of the socket, it is called a subluxation. When the ball comes all the way out of the socket, it is a complete dislocation. The ligaments, tendons, and muscles around the shoulder may stretch, loosen or tear. These damaged tissues can no longer keep the arm centered in the shoulder socket.
What causes the shoulder to dislocate?
Severe injury or trauma may cause the first shoulder dislocation, including sports injuries, automobile accidents and falls.
Shoulder instability can be the result of repetitive overhead motion in sports or work. Tennis and volleyball are sports that require repetitive overhead motion.
The shoulder may become unstable without an injury or repetitive strain. Genetic loose shoulder ligaments can predispose some people to shoulder instability.
Symptoms of a shoulder dislocation include:
Severe shoulder pain
Swelling and bruising
Numbness and weakness
Muscle spasms
Arm feels out of place
Visible deformity
Limited range of motion
A severe first dislocation can lead to continued dislocations. Symptoms of chronic shoulder instability are repetitive episodes of shoulder dislocation symptoms.
After discussing symptoms and medical history, the DOC orthopedic surgeon or PA will examine the shoulder and assess instability. X-rays provide information about causes of the instability and help to rule out other possibilities, such as a fracture. An MRI or CT scan helps to evaluate the tissues of the shoulder joint. Nonsurgical treatment typically includes activity modification, non-steroidal anti-inflammatory medication, ice packs, shoulder bracing, and physical therapy. Surgery may be necessary to repair stretched or torn ligaments so that they are better able to hold the shoulder joint in place and avoid future dislocations and instability.
For more information, read about Noah's rotator cuff surgery and regenerative medicine therapy at Noah's Return to Ultra Marathons.
For rotator cuff and shoulder conditioning stretching exercises to be performed under the supervision of the DOC physician or physical therapist, click here: Rotator Cuff and Shoulder Rehabilitation Exercises | American Academy of Orthopaedic Surgeons
Sources:
Chronic Shoulder Instability | American Academy of Orthopaedic Surgeons