Knowledge Center
DOC Appreciates Athletic Trainers' Expertise
January 13, 2018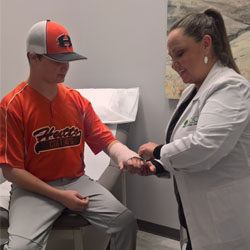 In high school or collegiate athletic programs, certified athletic trainers (ATs) evaluate and provide immediate care for injured student-athletes and refer the athletes to orthopedic specialists such as Direct Orthopedic Care (DOC) for definitive medical management of musculoskeletal injuries. Mandi Amburn is an athletic trainer with her Master of Medical Science degree and a certified physician (PA-C) assistant for DOC Texas.
She appreciates the symbiotic relationship between athletic trainers and orthopedic healthcare experts, PAs and physicians.
She explains: Athletic trainers provide healthcare, but recognize when an acute injury or chronic condition is serious and the athlete needs higher-level medical diagnosis, treatment or perhaps surgery. When the athlete is healthy enough to resume sports activities, DOC works with a guest's primary care provider and can alert the athlete's school athletic trainer that the athlete is ready to return to play. Recently Mandi provided care at DOC for E.J. Caldwell, a Hutto High School baseball player who was injured by a wayward pitch. (Pictured.) ATs and PAs work in tandem to support the DOC orthopedic sports medicine physician.  
ATs are highly skilled professionals who are well trained in all phases of athletic injuries.
AT training emphasizes musculoskeletal injury prevention, conditioning, clinical diagnosis and evaluation, immediate care, treatment, and rehabilitation. A study of high school athletes who were injured between 2010 and 2012 at five high schools was included in a research database.  
A total of 286 injured athletes were referred for physician evaluation. Ninety-two percent or 263 athletic trainer assessments and physician diagnoses were in agreement.
DOC recognizes the value of the Texas State Athletic Trainers Association (TSATA) and National Athletic Trainers Association (NATA) in order to provide a superior healthcare support team for athletes. DOC's team includes physical therapists, physician assistants with an orthopedic-specialty background, as well as board-certified orthopedic surgeons.  
For more information on the cost of care, click here.
Source