Knowledge Center
DOC & TSATA Partner in Healthcare for Student Athletes
January 14, 2018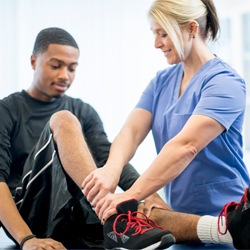 TSATA, the Voice of Athletic Trainers in Texas
TSATA promotes, enhances and advances the athletic training profession. TSATA is the voice of athletic trainers in Texas and an affiliate of The National Athletic Trainers' Association, NATA. Founded in 1950, NATA has grown to more than 43,000 members worldwide. Their mission is to "represent, engage and foster the continued growth and development of the athletic training profession and athletic trainers as unique healthcare providers."  
An athletic trainer healthcare professional focuses on proper conditioning, nutrition counseling, and the prevention, diagnosis and treatment of muscle and bone injuries and illnesses.
A certified sports trainer must have a bachelor's degree with a major in athletic training and then pass the ATC certification exam to be accredited. Mandi Amburn is an athletic trainer and PA for DOC Texas. She appreciates the symbiotic relationship between athletic trainers and orthopedic healthcare experts, PAs and physicians. She explains:  
"Athletic trainers provide healthcare but recognize when a chronic condition or injury is serious and the athlete needs DOC for diagnosis, treatment and perhaps surgery. When the athlete is healthy enough to resume sports activities, DOC sends him or her to the trainer to get back in the game."
An athletic trainer, a good coach, proper safety equipment, and DOC provide a necessary support team for high school athletes during the sports season. DOC is an immediate access orthopedic care clinic open seven days a week with extended weekend hours. For more information visit TSATA.com or directorthocare.com to find a DOC near you. 
For more information on the cost of care, click here.