Knowledge Center
Matching Health Care to Injury
April 18, 2018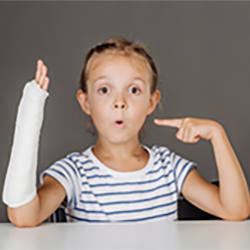 If you have a scrape or bruise, you treat the minor injury at home. If you have the flu, a cold, or fever, go to the urgent care clinic. If you have breathing difficulties, feel faint, unable to move, severe burns, chest pain, seizures, heavy bleeding, serious allergic reaction, poisoning, or overdose, go the ER. If you have a sprain, strain, or fracture, go to DOC – an orthopedic urgent care, for same-day access to orthopedic specialists, 7 days a week. It's faster, easier and less expensive than a referral to an orthopedist from a family practice physician or the ER. Orthopedic injuries consist of musculoskeletal injuries and conditions.  
DOC specialty orthopedic urgent care includes:
Sports injuries
Joint ligament tears, fractures and replacement surgery for ankle, knee, hip, wrist, and shoulder
Foot bunions, Morton's neuroma, diabetic foot and fractures
Leg hamstring tears, Achilles tendonitis, and fractures
Spine and neck degenerative, herniated and bulging disc repair, and lower back pain
Osteoarthritis
Injection therapy for arthritis and joint pain
Regenerative medicine including stem cell and PRP therapies
Physical therapy to accelerate healing, restore function and ease pain
In a study of sports and recreation-related injuries from 2011 to 2014, there were 8.6 million sports injuries, 42% lower extremity, 30% upper extremity, and 16% head and neck. Thirty-six percent of the 8.6 million injuries involved an ER visit, although the majority of the injuries were 41% strains and sprains and 20% fractures. Key findings for ER visits from the National Hospital Ambulatory Medical Care Survey of two of the five most populous states: 49 visits per 100 persons in Texas and 38 per 100 persons in California.
According to the 2016 National Health Statistics Reports on Sports and Recreation Related Injury Episodes: "As the nation continues to recognize the importance of physical activity, more research efforts are needed to address the complexity of these injuries across various activities, demographic groups, and medical settings." DOC is an orthopedic urgent care, the best medical setting for musculoskeletal injuries and conditions with convenient locations in Texas.
For more information on the cost of care, click here.