Knowledge Center
Nutrition for Competition – National Nutrition Month
February 27, 2018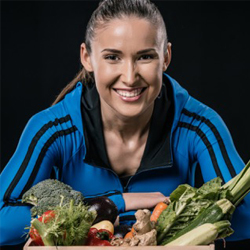 National Nutrition Month is a nutrition education and information campaign created annually in March by the Academy of Nutrition and Dietetics. An athlete needs to consume suitable food and fluid prior to, during, and after the competition in order to maximize performance. Fueling with the right nutrition for competition, a combination of carbohydrates, proteins, and fats, provides energy for top performance.
Carbohydrates are the most important source of fuel, 60% to 70% of daily calories, for short-duration, high-intensity activities. Food sources include fruits, vegetables, pasta, bread, cereal, and rice. The body changes carbs to glucose and stores it in the muscles as glycogen. With exercise, the body changes glycogen into energy.
Proteins should provide 12% to 15% of daily calories. Food sources include meat, fish, poultry, eggs, beans, nuts, soy, and dairy products. Protein builds and repairs tissue, muscle, cartilage, and bone.
The American Heart Association recommends that 15 to 25% of daily calories come from monounsaturated and polyunsaturated fats. Food sources include vegetable oils such as olive and peanut oils, salmon, trout, avocados, nuts, and seeds. The body needs small amounts of fat as an alternative energy source to glucose.
To prepare to perform at the highest level at a competition, the following suggestions may help with energy before and the day of the event:
Several days prior to a competition, some endurance athletes load their muscles with glycogen by eating extra carbohydrates so that unused glycogen will be available for energy during competition.
On the day of the competition, eat a meal high in carbohydrates 3 or 4 hours before competing. Choose easily digestible foods. Avoid fatty and sugary foods.
Drink enough fluids to ensure hydration: 20 oz. of water 1 to 2 hours before and 16 oz. within 30 minutes of the event. Replenish fluids often during competition.
Discuss nutrition for competition with an athletic trainer and/or nutrition professional. The sports medicine orthopedic specialists at DOC are available for consult. DOC treats any sports injuries or chronic conditions.