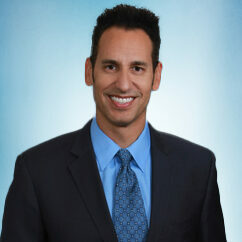 Darryl Thomas, MD
Orthopedic Surgeon
Dr. Thomas is a Board-Certified and Sports Medicine Fellowship-trained orthopedic surgeon, who holds an additional Certificate of Added Qualification (CAQ) in Orthopedic Sports Medicine. He is an Assistant Professor at the Texas A&M Health Science Center and was part of the medical team at the Scott & White Healthcare – Round Rock campus for 5 years before going into private practice in Austin. He is also a local semi-professional, university, and high school team physician. He provides cutting edge skills and technology in the treatment of injuries and arthritis in all age groups and employs arthroscopic and minimally invasive surgical techniques. His goal is to preserve and repair a guest's own tissue whenever possible, and to augment or replace tissue that has suffered extensive trauma. Overall, he aims to return his guests to their pre-injury level of activity.
Dr. Thomas lives in Austin and enjoys the outdoors. In his spare time, he enjoys boating, wakeboarding, running, skiing, snowboarding, live music, and spending time with friends, family, and his Portuguese water dog, "Buddy."
Darryl Thomas, MD was recently interviewed by the TV program New Frontiers hosted by William Shatner. Dr. Thomas was asked to discuss the latest innovations in orthopedic sports medicine. You can watch the full video below.
Undergraduate:
Princeton University
Residency:
The Johns Hopkins University School of Medicine
Medical School:
The Johns Hopkins University School of Medicine
Fellowship:
US Military Academy, West Point, Hospital for Special Surgery
Specialties:
Athletic Injuries, Cartilage Repair, Knee Ligament Reconstruction, Meniscus Repair, Rotator Cuff Repair, Shoulder Reconstruction
Honors & Memberships:
American Academy of Orthopaedic Surgeons
American Orthopedic Society for Sports Medicine
Arthroscopy Association of North America
International Cartilage Repair Society
Society of Military Orthopedic Surgeons
Austin Monthly Magazine Top Doctor
Certifications:
Board Certified American Board of Orthopaedic Surgery
You may see Darryl Thomas, MD at the following locations

Central Austin
Hours
Mon-Fri: 10:00am-6:00pm
(Walk-ins accepted until 5:00pm)
Call 512-675-1359
Schedule Telehealth Appointments
Available 6pm-10pm (Mon-Sun)
Fax: 512-599-9511

Round Rock
Hours
Mon-Fri: 10:00am-6:00pm
(Walk-ins accepted until 5:00pm)
Sat: 10:00am-5:00pm
(Walk-ins accepted until 4:00pm)
Sun: 12:00pm-5:00pm
(Walk-ins accepted until 4:00pm)
Temporary Hours
December 25, 2023: Closed
Call 512-729-3138
Schedule Telehealth Appointments
Available 6pm-10pm (Mon-Sun)
Fax: 512-599-9181