Knowledge Center
An AT on Top of the Game
January 18, 2018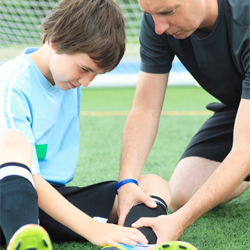 The profession of an athletic trainer (AT) is sometimes confused with a personal trainer, coach or gym teacher. Some of my work overlaps with these other professions, but primarily I am a health professional who collaborates with a team of physicians to provide preventive, emergency, assessment, and rehabilitative care of injuries and medical conditions for student-athletes. ATs train athletes to avoid injuries through prevention, using proper equipment, conditioning, good nutrition, and recovery practices. If one of my students suffers from an overuse or trauma injury, I evaluate the injury and determine the best next steps for immediate treatment and the urgency of diagnosis and treatment by a sports medicine orthopedist. Student injuries often happen during practices after school or weekend games. Unfortunately, most orthopedic practices are closed.
If a 9 to 5 practice is closed, the only other option used to be the ER. Good news for ATs! Direct Orthopedic Care provides immediate access to orthopedic experts every day, evenings and weekends. Parents want fast answers about their child's condition or injury. So I partner with an orthopedic practice with availability when student sports injuries occur. I save my students time away from their beloved sport by quick access to care and treatment and save their parents the expense of the ER. The earlier an injury is diagnosed and treated, the faster we can begin a rehabilitation program. I work hard to be informed about the latest breakthroughs in rehabilitation to be on top of my game for the students playing the game to get back in the game. After an injury, I collaborate closely with the athlete and the team of physical therapists and doctors to mentally and physically rehabilitate the athlete. We set achievable goals to keep the athlete focused and motivated during the months of rehabilitation.
The job is rewarding because I get to know the athletes and their families, as well as DOC's orthopedic surgeons, PAs and professional staff.
For more information on the cost of care, click here.