Knowledge Center
Clinical Peer Review Improves Care
June 4, 2018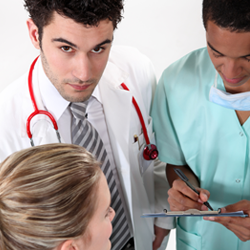 "Clinical peer review is the process by which health care professionals evaluate each other's clinical performance."
Peer review is a way to objectively evaluate the quality of a colleague's work in a candid, confidential and professional manner. Providing the highest quality of care is the main objective of our medical team at Direct Orthopedic Care. We practice peer review and consult with each other frequently to achieve that objective and ensure that all DOC team members meet the DOC Standard of Care parameters. According to the American Medical Association: "Physicians have mutual obligations to hold one another to the ethical standards of their profession. Peer review is recognized and accepted as a means of promoting professionalism and maintaining trust. The peer-review process is intended to balance physicians' right to exercise medical judgment freely with the obligation to do so wisely and temperately." The American Academy of Family Physicians encourages peer review as an essential part of improving the quality of health care. Some of the AAFP goals of peer review include:
The primary goal of peer review is to enhance the quality of patient care.
Clinical policies for patients are established by practicing physicians. Orthopedic surgeons, including CEO and founder, Dr. David Hassinger, established DOC's Standard of Care policy.
Peer review assesses the quality and appropriateness of care rendered.
A physician with similar qualifications performs a colleague's peer review.
The end result of peer review improves patient care through communication, education and health system improvement.
We apply the peer review goals at DOC as surgeons and physician assistants to evaluate each other's clinical performance in an ongoing self-improvement program to ultimately enhance guest orthopedic care. We have a corporate culture of respect and open communication, which enables us to evaluate one another in a productive, positive manner. At DOC, we appreciate that our guests entrust us with their care. We believe it is our obligation to reward that trust by ensuring that each guest receives the very best care from the very best provider team possible. 
For more information on the cost of care, click here.